Mila's Journey: One Woman's Fight Against Colon Cancer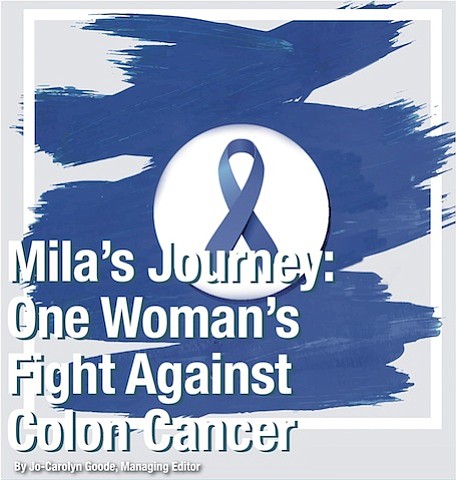 During Jamila surgery where doctors discovered she had cancer, they removed the cancerous polyps and started her on chemotherapy. Like a soldier, she went through 12 rounds of chemotherapy.
Wanting more answers to her questions she sought out the best. She found it at Mercy Hospital in Baltimore. It was while there that she found out her cancer has started to spread and had reached her peritoneal wall. This she tried a special type of chemotherapy called Hyperthermic intraperitoneal chemotherapy (HIPEC). Hot chemotherapy was placed in the abdomen for 90 minutes then washed and drained out. HIPEC would reach the areas regular chemo couldn't. Jamila would then undergo another surgery to remove her ovaries, gall bladder, and omentum. Followed by another four rounds of chemo. Her last chemo treatment was December 2014.
Before you cheer for Jamila, there was another problem. Out of nowhere, she starts seizing. All her husband could do was hold her and make sure she didn't injure herself. Come to find it was the result of another doctor error. One doctor didn't get her one of her needed medications and then overdose her when he realized it. A behaviorist had to detox her the drug which some say is worst than coming off heroin.
All that was worth it for Jamila to hear words she never thought she would hear. "You are cancer free." She actually heard those words while at M. D. Anderson in April 2015. But then came the "but." There was a spot that alarmed doctors that they would keep watch over.
So every two months Jamila religious came for her scan. Each time the spot got just slightly larger until doctor realized it was a tumor hiding behind scar tissue. Jamila's cancer was back and had spread. This time chemo was not an option. No drug was. The doctors told her that they have done all that they could do and she should go into hospice.
That was 2015. It is 2017 and Jamila is still kicking. Thanks to God and her strong faith. "I have definitely leaned on him for strength for all of it," said Jamila. "I have a closer relationship with Him from the begging of this to now." Jamila also has a strong support system. Riding out this battle with her at every step is her loving husband Brian (who is also our avid sports writer), her four children, her mother (who is a colon cancer survivor) and a host of others.
Jamila baffles her doctors and nurses who counted her out years ago. But she keeps beating the odds. She admits that it is a hard fight but you have to keep pushing. "When you stop pushing is when cancer wins." Today, she keeps busy as the co-host of the 2 Sports Dummies radio show she does with her husband and as the founder of Mila Journey Foundation that helps other young adults with colon cancer.
March is National Colon Cancer month. Do yourself a favor and learn your family history with colon cancer. And if need be, take the extra step and schedule to get your colon screened. Early detection saves lives.

Please pray for Jamila and her family as she continues to win in her fight against colon cancer. We are cheering for you Jamila!