Power Up with Tommy, Julio, Dre and AT&T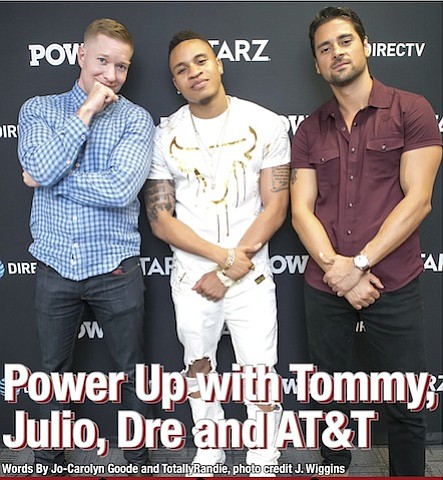 AT&T has become known as the brand to mobilize your world. But this past weekend in Houston AT&T brought the power to our world in the form of Joseph Sikora, J.R. Ramirez, and Rotimi Akinosho. The cast of the highly rated #1 program on Starz "Power" was in town for an exclusive meet and greet with fans of the show. And of course, Houston Style Magazine was there to learn a little more about the guys and now you will too.
"Power" follows the double life living James "Ghost" St. Patrick (Omari Hardwick). On one hand he appears to be living the life of a successful business owner of one of the hottest nightclubs in town, and doting husband/father pristine with his stunning wife Tasha (Naturi Naughton) by his side. However, flip the coin and he lands on heads as a drug lord running a well run operation in the streets of New York with his best friend who is like a "brother", Tommy. As the protagonist, St. Patrick exudes the most common conflict known "man against man". He struggles with wanting to leave the drug world where his family and himself along with his loyal associates face death from multiple gangs every day. Sprinkle that with trying to raise your 3 kids, and a pinch of infidelity with an opposing AUSA agent/childhood friend; Angela Valdez (Lela Loren), and you have everyone connected with James/Ghost fighting for Power.

Since hearing those words that millions sing every Sunday night, "They say this is a big rich town," in 2014, we have come to fall in love with, despise some, and look forward to the unfolding of other characters. We have phrases we use and love to hear like "Cancel Christmas" and scenes where we cheered and cried at the same time. However, when asked their most memorable scene, those first episodes are still embedded in the minds of its stars. Sikora reflected back to that time as one of his most memorable scenes. "The first shot of the first scene of the first episode of 'Power' was me and J.R. Ramirez in Woodside, Queens. We where going into shoot a scene with the [Hermanos] Tainos & Dominic Colon and so that was very memorable to me." He continued, "I just still remember kind of the very bright blues of the garage in the background and the Dominicans playing dominos. I still remember that pretty vividly. "
It was during that scene where Julio, played by J.R. Ramirez, started to show how trustworthy and loyal he could be to Ghost's operation, which has proven to be very beneficial even now in season 4. "Julio has been there since day one literally, the very first scene of year one it was me and this guy (pointing to Sikora). And I feel like Julio is one of the few people who is like their family. He knows them in and out. He knows the streets better than anybody else. The loyalty he has to Ghost and Thomas is something that I don't think anyone else has. They don't trust anybody like they trust Julio. And this year he finally gets a little promotion so he is trying to do right by the organization but its tricky." He laughs, "The streets ain't loyal."