Laurenzo's: Continuing the Tradition of Food and Family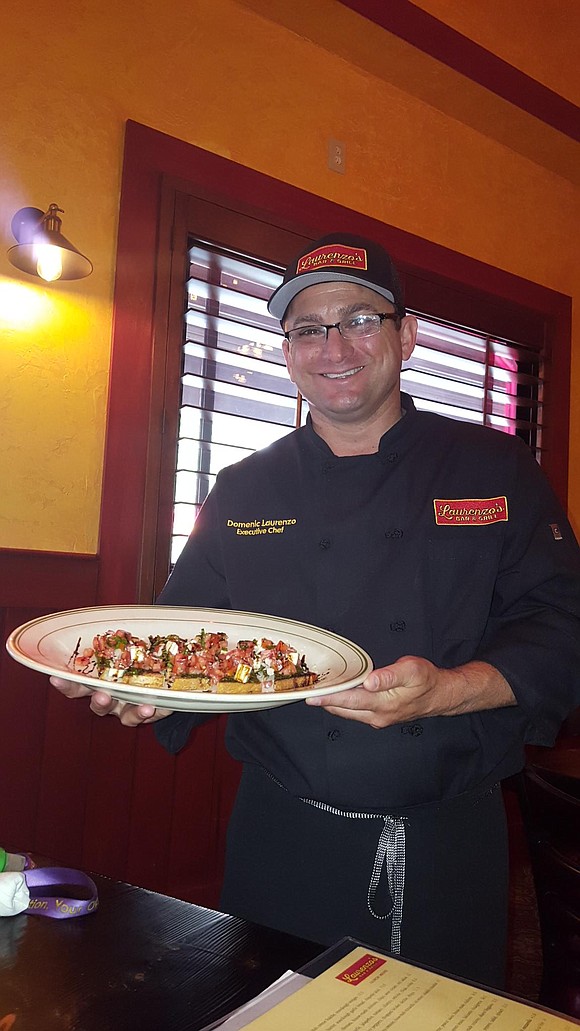 Walking into the new location of Laurenzo's Bar & Grill in Midtown and there is only one reaction to be had, "Wow!" It is something that is so unexpected but quickly becoming the norm with the revitalization of the area that is attracting a younger crowd and anyone who wants to have a great time.
Quickly becoming a hub for activity is the newest franchise under Laurenzo family umbrella of establishments. The Laurenzo family has deep roots in Houston dating back to 1949 when the family first moved here and introduced us to their famous tamales, tortillas, and pizzas. Soon the matriarch of the family Ninfa Laurenzo, was better known as Mama Ninfa, would open a brick and mortar location that felt more like sitting at your grandmother's table surrounded by love and eating food with heart and soul. Today her first grandchild, Chef Domenic Laurenzo, continues the traditions of his grandmother and the family legacy with Laurenzo's Bar & Grill located at 1910 Bagby #100. Team Style Mag were among the first to be spoil by the Laurenzo traditions and you should soon make your way there as well for a dining experience like no other.
A great way to start a meal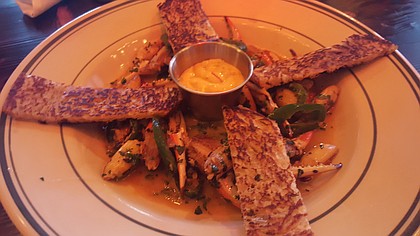 Using the freshest ingredients Chef Laurenzo serves up food that is familiar in an unconventional way. Pointing being with the first appetizer he laid on us. Everyone has probably eaten or at least heard of crab cakes, crab linguini, etc. But have you had crab claws? We completely lost our minds when trying the Crab Claws at Laurenzo's. This really could be the main entrée. At least 50 or so crab claws cooked with green onion, jalapenos, garlic, cilantro, and butter cover this huge pasta like bowl complimented by sourdough garlic bread with chipotle aioli. The crab slid off the claw with little effort and melted in our mouths. One of us hardly got to try this dish because the other one devoured them all. (Jo is the guilty party.) This is an absolute fav and a must try when you visit. It was a great start to a fabulous meal.
The Crab Claws were a great segway to the next course, the Chicken Paillard Salad. It was like an upside down chicken salad as the chicken was on the bottom of the salad instead of on top. Generally, as ladies trying to stay healthy we watch what we eat. Needless to say grilled chicken is a great part of our diet. Nothing is worst that dry grilled chicken. Chef Laurenzo must have known about our pet pev because the chicken on this salad was the most succulent and moist that we have ever had. There is a reason why he put at the bottom of the bed of arugula, friisee lettuce, tomato confit, house-made croutons, and shaved Reggiano because you always save the best for last, right?
Before we closed out the appetizers, Chef Laurenzo had two more dishes to wow us. The delicious Jalapeno Bruschetta is sure to jump start your taste buds for delicious eats! Their own in-house, homemade Mozzarella, join forces with Roma tomatoes, red onions nestled in a jalapeno basil pesto supported by medium cut sourdough bread toast, and topped off with a sweet/tangy balsamic reduction. We could not get enough of it! Before we moved on, we cleansed our pallets with the Asian style Kale Salad topped with peanuts. It was crunch greatness in a mouth full. Be careful as the kale is very filling. It was a yummy snack to start our way to a great feast.