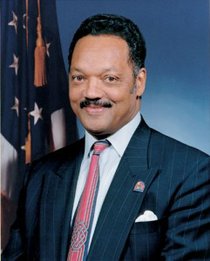 You can write to the Rev. Jesse Jackson care of this newspaper or by e-mail at jjackson@rainbowpush.org.
Recent Stories
If a lie is repeated often enough, the truth may never catch up. Donald Trump understands this better than anyone, as he showers Americans with lies -- often the same ones repeated over and over -- knowing that more voters will hear him than the fact-checkers. One of his favorite howlers is his oft-repeated claim that "I've done more for African Americans than anybody, except for the possible exception of Abraham Lincoln." No one should fall for the con.

In this critical election, Americans are busting all records for early voting and voting by mail. Yet, over 700,000 Americans have the right to vote but many are denied that right not only in this election, but in every election. An average of 746,000 Americans is held in local jails, most of whom have not yet been convicted of a crime or are held only for minor offenses.

Political rhetoric can incite. Incendiary posturing can trigger those who carry matches. We've now seen this play out dramatically in Michigan. Last week, six men, members of a right-wing militia group calling themselves the Wolverine Watchmen, were arrested and charged with plotting to kidnap Gov. Gretchen Whitmer of Michigan before the November elections. Seven others were charged under Michigan's anti-terrorism law for allegedly seeking to recruit an army of 200 to storm the Michigan Capitol and ignite a "civil war."

I join those who pray for the full recovery of President Trump and the first lady. Whatever your politics or your religious beliefs, all of us should pray for the millions who have been afflicted by the COVID-19 pandemic.
Upon the untimely death of Justice Ruth Bader Ginsburg, Donald Trump promised to name "a woman" to fill her seat, as if the sum of Ginsburg's identity was her gender. In fact, the woman that Trump has nominated -- Amy Coney Barrett -- is an insult to all that Ginsburg stood for.
Supreme Court Justice Ruth Bader Ginsburg -- the Notorious RBG -- was a tenacious advocate for equality. The outpouring of grief across the nation is testament to her commitment. She deserves to be honored and celebrated. The assertion of Donald Trump and Mitch McConnell that they will rush to nominate a justice intent on dismantling her legacy is both shameless and poisonous. Shameless because it exposes once more that they care only about power, not about the law or legitimacy. Poisonous because it uses the death of a justice famed for consensus-building to deepen the nation's toxic divisions.

"The poor will always be with us," say the cynics. No doubt, some will always be wealthier than others. We wouldn't want to live in a society that forced all to be equal. But poverty isn't inevitable. The 30 million people in America who lived in poverty even before the pandemic when unemployment was at record lows needn't exist in that state.
As the presidential campaigns heat up, Americans are provided with a stark choice of leaders. The visits to Kenosha of Donald Trump and Joe Biden provide clear contrasts for all to see.
The greatest athletes in America are standing up for justice at a critical time. Despite unprecedented, multiracial demonstrations across the country protesting police violence against African Americans, the horrors keep on coming. Last week, Jacob Blake was shot seven times in the back by a policeman in Kenosha, Wisconsin. As the anger has grown, some of the protests have been marred by vandalism and looting. Now armed right-wing militia groups are escalating the tensions. In Kenosha, two demonstrators were murdered and one wounded by a 17-year-old Trump supporter illegally wielding an assault weapon.
In last week's Democratic National Convention, Joe Biden and Kamala Harris passed the character test.