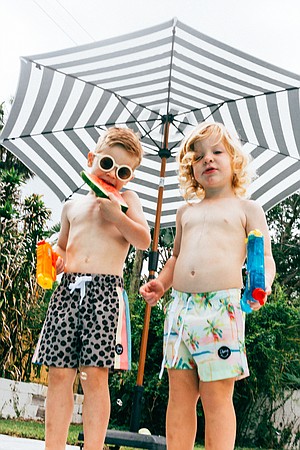 Duvin Design Co., the Official Uniform of People Who Hate Uniforms, is pleased to announce the release of the first ever Duvin Kids collection. Titled "It's All Smiles," this exciting new extension of the brand is set to make a splash this summer with vibrant colors, playful patterns, and utmost comfort.
The "It's All Smiles" capsule builds on Duvin's modern take of a retro 80s surf aesthetic, and introduces 5 swim trunk styles in sizes 2T through 9/10 that feature colors and prints complementing the adult offering and creating ample opportunity for family matching. Styles are presented in a bold warm-weather color palette, featuring feel-good graphics and patterns that kids and parents alike will adore. Among the highlights are the "Cheetah Disco" swim short, which has been a bestseller within the men's line and is now available for the little ones. With this addition, kids can now enjoy the same iconic style as their dads when hitting the beach or pool this summer.
Duvin customers can expect the same level of quality and comfort that they have come to love with all collections. Crafted from premium 4-way stretch material, the kids' swim trunks ensure unrestricted movement for endless hours of fun in the sun. Notably, the shorts feature a slightly shorter outseam length, setting them apart from other kids' shorts on the market and embodying Duvin's commitment to innovative design.
"This is another exciting step in the evolution of the Duvin brand," says Duvin's Creative Director and Co-Founder, Austin Duvall. "We've spent over a decade trying to create the perfect swim shorts, so it seemed like a no-brainer to take the concepts we've perfected for adults and apply them to kid's sizes."
Duvin was started by a group of lifelong friends – Austin Duvall, Garrett Watzka, and Shaun O'Meara – on the balmy beaches of Florida in 2010. With most popular surf brands historically based in California, the trio realized there was limited representation of the Florida surf scene – a region ripe with interesting history and a unique design philosophy. As native Floridians, this became the brand's talisman and distinctive point of view, which continues to drive all aspects of the brand voice today.
Duvin collections are produced in Los Angeles and internationally, with custom dyeing handled in Los
Angeles and all printing done locally in Orlando. Almost twelve years after producing their first tees, the collection is sold in over 130 retailers across 10 countries and is worn by athletes and celebrities from all walks of life. Though the brand's ethos is based in a surf lifestyle, it has grown through the years to encompass a growing clientele of all genders, and includes creatives, musicians, skaters, party starters and fashion enthusiasts alike. What started as a product based in surf culture has evolved into a fashion brand that caters to anyone looking to have a good time enjoying the sun.
Go Have a Day.
The Duvin Design "It's All Smiles" kids collection, please visit: