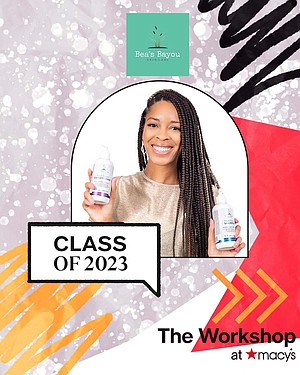 Bea's Bayou's products are now available on macys.com! Shop the pop-up during the month of May! I'm so excited and grateful for this opportunity!⁠ Please include us in your cart as you get ready for Mother's Day and shop your favorite apparel and home goods!
⁠Thank you, @Macys! #TheWorkshopAtMacys⁠
About The Workshop at Macy's
The Workshop at Macy's is an exclusive retail-vendor development program designed to give select high potential diverse, LGBTQ, veteran and women-owned businesses the tools to better succeed and sustain growth in the retail industry. The Workshop at Macy's was launched in 2011 to foster growth in the next generation of diverse merchandise suppliers. Conducted annually, this free program is a foundational element of Macy's commitment to supplier diversity. With more than 195 graduated vendors including Alex Woo, Urban Hydration, Verona Collection, Twelve NYC, Mateo New York, Fe Noel, Foot Nanny and Eleven60, The Workshop continues to create a viable pipeline of enterprises that will grow to become successful partners with Macy's, Inc. and other retailers.