Nine students from the Texas Southern University Debate Team spent their spring break competing in the 33rd Annual International Forensic Association (IFA) Speech & Debate Championship Tournament in Tokyo. TSU's team came in second place out of 30 teams from around the world.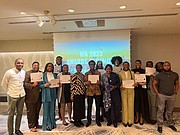 "My teammates and I are overwhelmed with joyful excitement to bring our talents, skills, and hard work to the international stage," said Brynn White, Debate Team president. "We have endured so much as forensic competitors – such as COVID-19 and how it transformed our entire social and competitive landscape. We continue to be the only HBCU to compete on these national and international circuits that are dominated by predominantly white institutions (PWIs) and other private colleges. We represent TSU authentically and proudly. Despite some barriers, we stick to our roots, ground ourselves in the legacy of the team and the words of our founding coach Dr. Thomas F. Freeman."
The tournament was conducted in English and consisted of team debates in National Parliamentary Debate Association and British Parliamentary formats; individual debates in International Public Debate Association format; five interpretation of literature events, four platform speaking events, two limited preparation speaking events, two online events, and a nuance event designed to honor the host nation. In addition to the team placing second overall, Brynn White won first place in Dramatic Interpretation.
"I am beyond proud of the students who competed in Tokyo," said Dr. Gloria Batiste Roberts, head debate coach. "The students work hard to perfect the craft every day, and the opportunity to compete on an international stage is one that we enjoy. Placing second out of 30 teams internationally is no small feat and it's an experience they will cherish with pride for the rest of their lives."
The TSU Debate Team has a history of international competitions with overall sweepstakes wins in 1992 (London), 1994 (Munich), 2002 (Rome), and most recently 2018 (Montreal). The team is planning to compete in the IFA Speech & Debate Championship Tournament in 2024. It will be held in Dublin, Ireland.