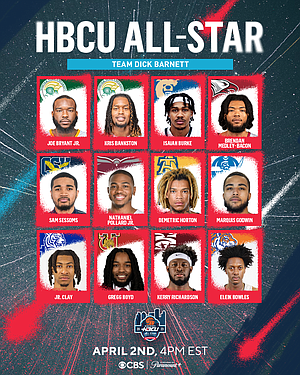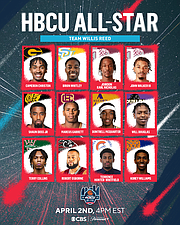 The HBCU All-Star Game, taking place on Sunday, April 2 in Houston, Texas at the prestigious Texas Southern University H&PE Arena at 3pm CST, has named the nation's top 24 players who will make up the two rosters for the contest. The game will air live on the CBS Television Network and be available to stream on Paramount+.
Comprised of some of the best basketball players in the four HBCU NCAA Division I and II conferences in the country, the 24 selections will be split up into two teams of 12 for the historic game, named after a pair of HBCU legends – Team Willis Reed versus Team Dick Barnett.
"The 24 players that have been selected represent the best in college basketball at our country's prestigious black colleges and universities. Our HBCU All-Stars national scouting staff did an amazing job for the past five months evaluating some of the most talented players from the 49 participating HBCUs. We know there were many players deserving of this great opportunity to play in this historic and second annual HBCU All- Star game," said HBCU All-Stars LLC Founder and CEO Travis L. Williams. "This is history in the making and first time ever that an HBCU All-Star Game will be played on a HBCU campus. I am just being obedient to this GOD-driven vision and it has been a long journey to get to this point, but we are just getting started and expect to put on a great event in Houston. We will continue honoring and celebrating the rich history, tradition, and contributions of HBCUs to the sport of college basketball."
Team Willis Reed is comprised of players who compete in the Southwestern Athletic Conference (SWAC) and Central Intercollegiate Athletic Conference (CIAA), while Team Dick Barnett will be made up of players who competed in the Mid-Eastern Athletic Conference (MEAC), Southern Intercollegiate Athletic Conference (SIAC), and INDEPENDENT schools representing Tennessee State, Hampton, and North Carolina A&T State Universities.
Along with the announcement of the players for the game, HBCU All-Stars also announced the postseason individual award winners who will be honored at the game in April. The HBCU All-Stars Ben Jobe NCAA National Division I Coach of the Year is Kenneth Blakeney from Howard University, while the HBCU All-Stars Jerry Johnson NCAA Division II National Coach of the Year is Jay Butler from Virginia Union University.
The HBCU All-Stars Bob Love NCAA Division I National Player of the Year is Joe Bryant Jr. from Norfolk State University who will also be suiting up for Team Dick Barnett. The HBCU All-Stars Bob Dandridge Division II National Player of the Year is Robert Osborne from Virginia Union University and suiting up for Team Willis Reed.
With a mission to advocate, educate, expose, mentor and invest in HBCU students, student-athletes and coaches across the country, the event aims to showcase the "Best in Black College Basketball." Launched by HBCU All-Stars LLC, a Black-owned sports marketing, events, and media company in Atlanta, the HBCU All-Star Game brings much needed E.A.R. (Exposure, Access, Recognition) and O.R.R. (Opportunities, Resources, Results) to outstanding, talented, ambitious, and hardworking HBCU students, student-athletes and brilliant coaches and celebrate Black Excellence, Black History, and Black Cultural Experiences at the highest level.
To learn more about the HBCU All-Star Game and to get additional information about its ancillary events and tickets visit hbcuallstargame.com, and follow @hbcuallstargame.