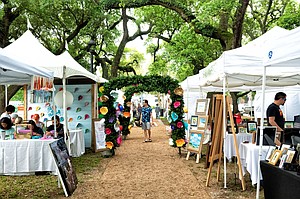 Midtown Houston announced today the annual Art in the Park event will take place April 21-22, 2023. Planned in the newly upgraded Baldwin Park, the theme for this year's community event, which brings together local artists, food vendors, musicians, and performers, is Let Art Inspire HOU!
Houston was recently dubbed America's New Art City, and Art in the Park will celebrate the breadth and depth of talent in the city. The two-day family event will take place under the oak trees at Baldwin Park (1701 Elgin St.) on Friday, April 21 (5 – 10 PM) and Saturday, April 22 (10 AM – 4 PM). A pet-friendly affair, Art in the Park features talented artists and artisans, musicians and performers, and food trucks from across the city. The weekend activities include free ArtJam classes like wreath making, Houston skyline painting, and Mother's Day piñata-making; with pre-registration required.
"I'm proud that our vibrant city, made up of diverse residents and visitors from around the world, has been recognized as an American arts destination. Midtown is one of seven vibrant Cultural Arts Districts in our city," said Cynthia Alvarado, Director of Operations and Strategic Planning for the Midtown Management District. "I look forward to celebrating our very own homegrown artists and performers in one of our most breathtaking green spaces at Art in the Park this spring."
Art in the Park will feature 36 talented Houston artists, including 11-year-old Sara Cunningham. A Houston native, Cunningham's drawings focus on creatively capturing people and animals in ways that speak to her spirit. She's the youngest artist ever to participate in Art in the Park. "I want people to look at my art and imagine it coming to life," said Cunningham.
Don't miss opportunities at Midtown Houston Art in the Park this year include:
-Wonder at the art-in-progress from Houston's best chalk artists;
-Sign-up now to create a Mother's Day themed piñata or attend one of the other free craft classes;
-Adorn your skin with free, beautiful henna by Macy Ulbricht;
-Try out the newly updated Baldwin Park playground; and
-Snap a selfie at one of three spring-themed arches and an interactive photo booth.
Register for the free Art in the Park craft classes here, before they fill up. Art in the Park is underwritten and coordinated by the Midtown Cultural Arts District, a State of Texas-designated Cultural Arts and Entertainment District.