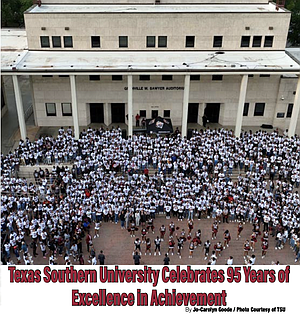 When people of color went out to discover more for themselves in the early 1920s, there weren't a lot of open doors but closed ones. Opportunities were few, and there weren't many individuals with extended hands to show them the way. However, a courageous few found opportunity tucked away in the heart of Third Ward at a place to be called Texas Southern University.
The University has been a place that has opened its doors to embrace diversity, even before receiving its name. Ninety-five years later, the university continues to value multiculturalism.
While a large segment of America was engrossed in the "roaring" 1920s, segregation and oppression made it hard for Black men and women to advance in certain areas of life. In response to the Supreme Court's ruling in Plessy v. Ferguson, the Houston Public School Board established two junior colleges in Houston. One of those colleges would be founded on September 14, 1927, and called the Houston Colored Junior College. With a loan of $2,800, the first class of 1927 had 88 students ready to learn and conquer.
Four years after the first class stepped foot on campus, the Houston Colored Junior College was called the Houston College for Negroes, complete with a higher distinction as a four-year university. The move in prestige allowed the initial class of 63 Blacks to get full-fledged degrees, not only an associate's degree. Soon after, a graduate program was formed and the College for Negroes became a bastion for higher education inside another Third Ward institution for learning: Jack Yates High School. While housed within the walls of Yates' campus, enrollment grew by the hundreds, culminating with a peak in 1946 at 1,400 students.
The sudden growth of the college prompted a need for the school to have its own campus. Noted Houston philanthropist Hugh Roy Cullen provided the financial backing required for the college to move from Yates to a new campus with 53 acres of land to work around. The first building erected on the grounds was the T.M. Fairchild Building, named after Black Houston businessman Thorton McNair Fairchild. Quickly, the school needed a new name to match its new campus and an emphasis on nurturing higher education in Houston.
In 1947, the college was renamed the Texas State University of Negroes. At the time, controversy brewed in Austin as Herman Marion Sweatt, a Black man, applied to attend law school at the University of Texas. However, due to the terms handed down by the "separate but equal" ruling of Plessy v. Ferguson some 51 years prior, the school did not admit Sweatt on the grounds of race. His desire to attend the state's largest college institution sent shockwaves throughout Texas. It gave way to the idea of the Texas State University of Negroes founding a law school where African Americans could not only enroll but graduate and thrive. The state legislature would draft two bills preventing future incidents such as Sweatt's from occurring, establishing the law school at TSU with $2,000,000 in funding.
In 1951, the university underwent one final, permanent name change. After students petitioned to have Negroes removed from the school's name, the Texas State University for Negroes was renamed Texas Southern University on June 1, 1951.
From the first group of 88 in 1927 to welcoming the largest incoming first-year class in its history and surpassing over 10,000 enrolled students, every nation and tongue is now represented in the student body.
Dexter Maryland, the Student Government Association President, has been vocal about revving up the student body to celebrate TSU's significance in education.
"I've learned that in this current environment, students want to connect to things that they can truly feel," Maryland said. Under his leadership, SGA has launched Tap In Tigers, a social media campaign to help engage students with the hope and school spirit the administration hopes to continue throughout their collegiate experience.
Maryland, a member of Alpha Phi Alpha fraternity and soon-to-be graduate in the Class of 2023, has cited TSU alums as one of his reasons for wanting to pass the torch to the next generation of TSU students.
"They serve not only as a source of information but also a haven of support and love, we connect on a deeper level because our tiger stripes are forever connected," he said. "I want my legacy to be one that is centered around the development and enhancement of every student I serve and come in contact with. One that will elevate the mindset of our students to understand that their degrees are attached to their future."

Class of 2011 graduate Reginald Dominique echoes Maryland's sentiments. After a stint at Bethune Cookman in Tallahassee, Florida, Dominique transferred to Texas Southern after his parents expressed outrage over how expensive Bethune was. Initially given a choice of moving to a Louisiana HBCU that previous family members attended, Dominique chose his own legacy and began his stroll on the Tiger Walk.
"I didn't know much about [TSU], but when I got there, I immediately fell in love with the culture, with the city, where the school was located," Dominique said. "I loved how the school is so intertwined directly with the community.
"Third Ward wouldn't be Third Ward without TSU and TSU wouldn't be TSU without Third Ward. So the fact that the school is intertwined in the Black community and there are so many great people that come out of TSU that I knew that I was in the right place."
Current student Kennedi Southall attests to the university's culture being a strong point for future attendees.
"It's everywhere at TSU," Southall said. "Not only do the students give you a family feel but even the people around TSU and outside of TSU. They give you the same support without you even having to know them. The Third Ward family experience as a whole is something you just can't get anywhere else."
That community for Southall includes her Tiger family, her sorority sisters and hanging out with friends at her favorite spot on campus: the student center.
"From the on-campus restaurants to the outside Greek plots, I just always love the opportunity to go out and socialize with my sisters and my friends any time that I can," she said.
The close-knit relationships formed at an HBCU like TSU, where your professors and friends become like your extended family, is all part of the entire experience, according to National Texas Southern University Alumni Association President Corrie Williams. A graduate of the Class of 2002, Williams can still go back on campus and find professors who call her by her name to ask how she's doing some 20 years after she graduated.
"That just feels good when you can go back home, and people still know who you are. They still care about what you are doing now, and I just feel like that is at any HBCU period," Williams said. "That is an HBCU legacy that you can go somewhere and be taught for four years and then always have a place at that institution. I feel like Texas Southern provided that not only for myself but for every student."
Before attending TSU, Williams came from a community where she was among the few Black faces in her class. She never experienced the love or care or felt the wealth of how much a teacher wanted the best for her until attending TSU. "I've never received an education before like I did at Texas Southern like I did from those professors. The care that they give doesn't just stop once the class is over. It was such a welcoming environment. They actually do care about you. They have an investment in you, and they want to see you succeed."
Williams also noted that this makes former students active in the alumni association. "Those same people go back home and feel like they have a place still at TSU because it is home for us."
With overwhelming stories coming from current and former students and community supporters, celebrating 95 years of "Excellence in Achievement" is something to be proud of and deserves a grand celebration. Tigers are coming from near and far to join in the festivities of being "Oh, So Glad They Went To TSU" at Homecoming 2022-themed "Destination: Tiger Nation." beginning October 23rd.
According to the release, festivities will include the annual midnight breakfast, pep rally, concerts, the 20th Annual Tiger Paw Scholarship Golf Classic, and the inaugural Alumni Under 40 Brunch.
In addition, special acknowledgments will be given to the classes of 1972, 1997, and 2012 who are observing their 50th, 25th, and 10th anniversaries, respectively, of graduating from Texas Southern. The alumni association will also celebrate Chapter of the Year members and 2022 Life Members at a reception at the University Museum.
The alumni association has a few more activities planned, like the upgraded Black Experience Party with I Love TSU and Popup Shop at Yard Fest.
The week of events will culminate on Saturday, October 29, with the Homecoming parade, tailgates, and football game vs. Lincoln University (California) in Alexander Durley Stadium. All Homecoming events will be held on campus at the request of TSU students and alumni.
There is always a place for those that love Texas Southern. Texas Southern alum can keep that good feeling by joining the alumni association. If you ever attended Texas Southern for at least one semester, you are part of the Tiger family and can join the association. Even if someone didn't attend TSU but loves the institution, you can join the association as an associate member.
Happy 95th Anniversary, Texas Southern University! For more information on Homecoming 2022, visit: www.tsu.edu/homecoming