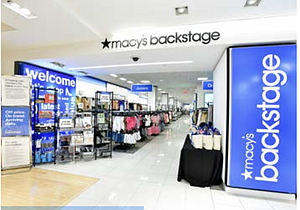 Macy's, celebrates the opening of a new Macy's Backstage at Memorial City. With the addition of Backstage at Memorial City, Macy's now offers 4 Backstage locations in the Houston area. Macy's Backstage de- livers a store-within-store shopping experience with a changing assortment of on-trend items to give shoppers another way to express their personal style at significant savings. The new location at Memorial City will official- ly open Saturday, October 1 at 10am with more than 11,000 square feet of dedicated retail space on the 2nd floor inside the full-line Macy's.
The grand opening will be celebrated with a variety of giveaways for customers (while supplies last).
Macy's has successfully expanded its off-price business to more than 300 Macy's stores, allowing customers to shop both merchandise offerings in one shopping trip. To support the growth of Macy's Backstage, a Backstage distribution center in Columbus, Ohio, is dedicated to expediting merchandise to Backstage locations nationwide and ensuring each store always has fresh and exciting product.
At Macy's Backstage, shoppers can earn and redeem Star Rewards and use their Macy's credit card at all locations, creating a seamless experience for those shopping at both Macy's full- line and Backstage stores. Customers will be inspired to "post and share" their favorite finds and looks using #macysbackstagefinds and tagging @macysbackstage.