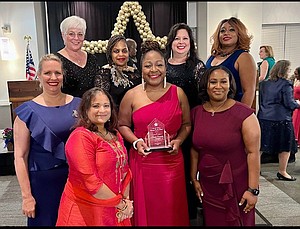 Houston Community College was honored with the Federation of Houston Professional Women Sheri L. Parrack Diversity Excellence Award for 2022.
The honor, announced at a recent gala, recognizes outstanding efforts in promoting diversity, equity, and inclusion in the organization by including or involving people from a range of different social and ethnic backgrounds and of different genders, sexual orientations and backgrounds.
HCC won in the category for employers with more than 500 employees.
"We are tremendously gratified by this recognition of all we are doing at HCC," said Cesar Maldonado, Ph.D., P.E. "This is another important validation of our ongoing efforts in ensuring that HCC is a leader as a diverse and equitable organization that values all people."
Maldonado lauded the work of the HCC DEI office, led by HCC DEI Officer Donna Davis, J.D. That team has implemented myriad efforts to promote understanding of inclusiveness and acceptance of diverse people across the HCC system and campuses. The office holds regular events to promote awareness and provides substantive training on DEI topics. It also releases well-regarded podcasts on diversity topics.
"It was wonderful to receive a high honor of recognition from an external organization in acknowledgement of our DEI work over the past year and our overall commitment to diversity," Davis said. "We will continue to strive every day to live up to this honor."
The federation's award honors former FHPW president Sheri Parrack who was a champion for women of all ages, races and backgrounds. Last year's winner was Memorial Hermann Hospital.
HCC continues to chalk up awards for its DEI efforts. Last year, the college system received the Houston Business Journal's Outstanding Diversity Helping Hand Award for promoting and advancing diversity and inclusion. The college's HCC Digital and IT Center of Excellence also won Diversity Summit Houston's 2021 citywide diversity award for its summer camps for young people from diverse backgrounds.
To learn more about the HCC DEI office, please visit: https://www.hccs.edu/departments/diversity-equity-and-inclusion.
ABOUT HOUSTON COMMUNITY COLLEGE: Houston Community College (HCC) is composed of 14 Centers of Excellence and numerous satellite centers that serve the diverse communities in the Greater Houston area by preparing individuals to live and work in an increasingly international and technological society. HCC is one of the country's largest singly accredited, open-admission community colleges offering associate degrees, certificates, workforce training and lifelong learning opportunities. To learn more, visit hccs.edu.