The lights and glitz of a celebrity's life can have one blinded to the hard times that happen when the lights off. We don't see their struggles, temptations, and the downside to fame. Prima ballerina Lauren Anderson twirled and leaped on some of the world's most renowned stages all while hiding behind dark clouds of body shaming, discrimination, and her personal demon, alcoholism. In Stages Theatre's groundbreaking production, they explore Anderson's secret addition to alcohol that almost ended her career and took her life.
As a young child, Anderson knew the performing arts was her thing. Her parents, Lawrence Anderson and Doris Parker-Morales enrolled her in music classes to learn how to play the violin and dances classes. When taking lessons for both art forms got to be too much for the family's budget, Anderson chose to focus on ballet thinking she could pick up the violin later in life.
Even though, Anderson hadn't seen many ballerinas that looked like her growing up, she knew she wanted to become one. That dream grew bigger after she was blown away by an Arthur Miller production performed by the classically trained Dance Theatre of Harlem. "Who are they?" "How did they do that?" "How can I dance like that?" There were just a few of the many questions that flooded her mind. Soon thereafter, at the age of seven, Anderson started training at Houston Ballet's Ben Stevenson Academy. One of her first performances with the company was as a mouse in the unforgettable, The Nutcracker.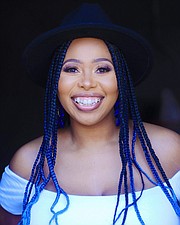 Under Stevenson's telugu, Anderson was given news that tugged at her self-confidence. Stevenson told Anderson that although she was talented, she would not be successful in the industry because her large, muscular physical features and she should consider musical theater. Anderson's up and down spiral begin. She became obsessed with trying to lose weight with a meatless diet, reducing the size of her butt, and toning down the size of her legs. While some considered her body a work of chiseled art others saw went against the grain of the tall, slim, no curves, childish look of the traditional ballerina.
Despite everything, Anderson broke through barriers to join the Houston Ballet Academy in 1983 at 18. She would wow audiences here at to those across the waters. Sweet rewards came for Anderson when Stevenson humble himself to appreciate Anderson the dancer, the talent and the person by creating a ballet just for her. He then started referring to her as a "bombshell" and a "fiery pistol," by the New York Times. The pinnacle moment of her career when she got to tell everyone, "never tell me what I can't do," came in 1990 when she made history as the first African American principal dancer at the Houston Ballet.
Having had danced her way into the history Anderson retired from performing in 2006. Before leaving the stage, she let fans in on a secret that she had been battling for a long time. She was an alcoholic. Her battle with the bottle begins in the same year that she made history. Years of pressure weighed heavily on her, and she was about to crack. Drinking became her plaster to fix the tears.
In a KPRC 2 interview, Anderson said she never danced drunk but was hung over. Drinking led to drug use. The birth of her son almost saved her as stopped her alcohol and drug use when she became pregnant. However, she returned to her vices after his birth. Her eye-opening moment...going to jail."I tried to justify in my head, that every fairytale has some conflict. But before I knew it, I was more than a dreaming princess. I was an unconscious victim teetering on the brink of death," said Anderson.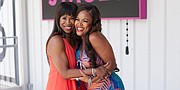 One night Anderson was pulled over for speeding and to her surprise she had numerous unpaid tickets and there was a warrant for her arrest. Plus, she had some drugs on her person. She cuffed, booked, and spent 10 hours in the Harris County Jail. She set in a dark cell, on a cold bench, looked at her surroundings and thought, " Oh, I don't belong here.
How did I get here, how did I get here?" She was down but she didn't stay there. She completed a court-ordered 12-step program, performed community service, participated in an outpatient treatment program, and went alcoholic anonymous meetings. She hasn't missed a meeting since 2009 and constantly fights her addiction.
Stages explore the ups and downs of Anderson's life in the new production, Plumshuga: The Rise of Lauren Anderson. Houston Poet Laurette Deborah D.E.E.P Mouton composed the production that blends spoken word, dance, music, and theater. In this intimate portrayal of a conversation with Anderson at home, DeQuina Moore, another amazing Houston born talent, stars in the character role that goes behind the fourth wall while artists showcase the memories though dance and with music.Houston Ballet and Urban Souls Dance Company partner for this production that stars various versions of Anderson throughout her life.
Along with Moore, Kellen Hornbuckle, Kalen Wright, and Danae McGlothen portray Anderson. The most expensive show in Stages history, Plumshuga features original choreography by Houston Ballet artistic director Stanton Welch and Urban Souls Dance Company artistic director Harrison Guy performed by dancers from Houston Ballet, music by Jasmine Barnes, and original lyrics by Mouton.
"How I wanted to be is a sugarplum...date-dark skin dusted in my own purple shine," said Anderson.