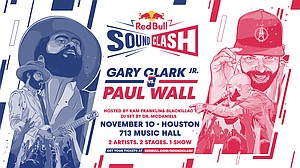 Red Bull announces the highly anticipated return of Red Bull SoundClash this fall to Houston for a second consecutive year while pitting iconic artists from 'The Live Music Capital of the World' against 'The City of Screw' for a true southern showdown.
Following a triumphant return to the U.S. last fall after a decade of international domination, the live format competition series will feature shows stretching across three iconic music cities this fall, including a final SoundClashtour stop on Thursday, November 10 at Houston's 713 Music Hall (401 Franklin St Suite 1600, Houston, TX 77201) with tickets available for purchase starting at just $25.
The distinctive live set-up that was first inspired by Jamaican sound clashes returns to the Lone Star State in November featuring Grammy Award-winning, Austin-based rock, blues, and soul phenom Gary Clark Jr., considered by many to be one of the greatest guitarists performing today, who will take on Houston's own "Sittin' Sidewayz" rap legend Paul Wall. Although Clark Jr. is currently on a nationwide tour while preparing for the release of his highly-anticipated fourth studio album, this special Red Bull SoundClash marks his only Texas performance currently scheduled for the second half of 2022.
Red Bull SoundClash will also help celebrate the culture-defining sounds of Detroit and the Bay in this two-part face-off happening in Ray's Motor City hometown (October 15 in Detroit) followed by a Bay showdown in June's hometown at the stunning Regency Ballroom (November 3 in San Francisco) where only one emcee can be crowned king.
Unique to the Red Bull SoundClash fan experience, each event will allow the audience to ultimately decide the winner with crowd cheers via a decibel reader as the two artists look to push their own artistic boundaries to compete back-and-forth across custom-built opposing stages.
Since 2006, this Red Bull event series has continued to bring together today's top musical talent to compete against each other over the course of four rounds, although Red Bull SoundClash is ultimately meant to serve as a celebration of the power of live music, collaboration, and creative empowerment. See below for a detailed look at the live format competition:
Round No. 1 (Cover): Both bands play their own version of the same cover song
Round No. 2 (Takeover): Begins with the first band playing one of its original songs, although mid-way through the other band takes over while finishing the song in their own style
Round No. 3 (Clash): Highlights each band's musical versatility by performing songs in three different styles as determined by the DJ (ex: Electronic, Reggae, and Rock)
Round No. 4 (Finale): Features a ton of fan surprises as each act is allowed to bring on a special guest to join in on their final performance
To learn more about Red Bull SoundClash, please visit RedBull.com/SoundClash, while following along via @redbullmusic on social media and using the official event hashtag #RedBullSoundClash. Fans also visit win.gs/soundclashhouston to learn more about the upcoming Houston concert this fall.