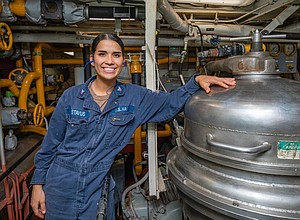 Story by Petty Officer 3rd Class Santiago Navarro
Commander, Task Force 70 / Carrier Strike Group 5

A Baytown, Texas native and 2018 Goose Creek Memorial High School graduate is serving aboard the U.S. Navy's Ticonderoga-Class-class guided-missile cruiser USS Antietam (CG 54).
Sierra Gustavus is a Gas Turbines Systems Technician (Mechanical) or GSM who works for the Engineering Department aboard the Antietam, which is forward-deployed to Commander, Fleet Activities Yokosuka, Japan.
GSMs work with turbine engines. They are in charge of maintaining and repairing the mechanical components of turbine engines and other propulsion machinery found in Navy ships.
Gustavus works primarily in the ship's fuel processing lab where she tests F76 fuel, which is the primary fuel the ship runs on.
"I enjoy working with the ship's fuel," said Gustavus. "I feel like a scientist on the ship running all these fuel tests."
In additon to the ship's fuel, Gustavus regulary tests fuel for the MH-60R Sea Hawk helicopters, attached to the "Warlords" of Helicopter Maritime Strike Squadron (HSM) 51 on the Antietam, which regularly run flight operations. For the helicopters, she conditons fuel to make sure it has the proper amount of additives and it doesn't freeze during flights.
"If it weren't for the fuel testers, we would not be able to go anywhere," said Gustavus. "Consoles can be down occasionally, but ultimately it's the fuel that keeps the ship going."
Gustavus's work in the fuel lab is a stepping stone for her as she plans on getting an engineering degree and working as an oil and fuel tester outside the Navy.
"It is a huge advantage being able to do all this hands on work," said Gustavus. "I'm getting a different deal from my peers who are currently in college for the same occupation."
Outside of the fuel lab, Gustavus is well immersed in ship life through various committees including the multicultural committee and as treasurer of the Morale, Warfare, and Recreation (MWR) committee on the Antietam. An accomplished Sailor, she received a Navy and Marine Corps Achievement metal for completing 46 material inspections and was promoted to Petty Officer Third Class in June.
"Leave a little sparkle wherever life takes you," said Gustavus. "It is a quote that I live by everywhere I go."
The Antietam returned to sea on May 19th after a ten month in-port period. On August 28th, the Antietam transited the Taiwan Strait. Its mission during this 13-hour evolution was to support a free and open Indo-Pacific, providing a presence as part of the Ronald Reagan Carrier Strike Group. Antietam departed from Singapore on September 5th after a scheduled port visit.
Antietam is attached to Commander, Task Force 70/ Carrier Strike Group 5 conducting underway operations in support of a free and open Indo-Pacific.