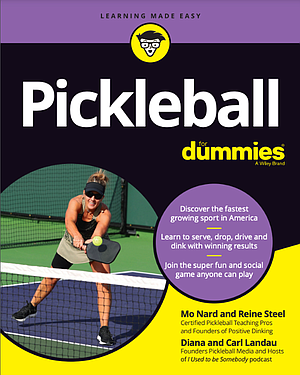 Pickleball is sweeping the nation! This funny-named sport has gone mainstream, with growth skyrocketing 40% since 2020. Over 5 million Americans are playing pickleball today. John Wiley and Sons, Inc. is launching Pickleball For Dummies, the most comprehensive resource guide to date.
The popular "For Dummies" book series has helped millions of people around the world learn new skills and has grown into one of the best-known learning brands in the world. Pickleball, a once obscure sport that started in the 1960's in the Pacific Northwest, exploded during the pandemic. Pickleball is the fastest-growing sport in America!
Pickleball is so fun, so social and so good for you that it's the new, healthy addiction:
● It's easier to play and learn than most sports. The book will teach you everything you need to know to start playing real games the first time on a court and all the way to the advanced level.
● There are many places to play. Courts can already be found in many parks, gyms, athletic clubs, and community centers – many cities are busy converting unused basketball and tennis courts to pickleball courts.
● The sport is affordable. No fancy gear required, just a paddle, ball and a positive attitude. Playing is often free in places like public parks.
● You can improve your fitness. The multi-directional movement in pickleball improves strength, balance, and agility.
● It's a multi-generational sport. Family and friends of all ages can play together.
● It improves social skills and boosts confidence. You will meet and make new friends every time you play.
● You get to channel your inner-kid. Playing pickleball is so much fun!
Pickleball For Dummies features chapters on beginning, intermediate and advanced play. You will discover everything you need to know about pickleball, including how and where to play, body mechanics, drills and strategies as you improve.
Players ages 5 to 100 can and do play. The pickleball obsessed include George Clooney, Leonardo Di Caprio, Kim Kardashian, Reese Witherspoon, Stephen Colbert, and more.
Pickleball For Dummies, from John Wiley and Sons, Inc, will be in bookstores across the country in early October 2022. You can pre-order on Amazon today!
Mo Nard and Reine Steel, certified pickleball teaching pros and co-founders of Positive Dinking, and Diana Landau and Carl Landau, Founders of Pickleball Media and Host of I Used to be Somebody podcast, co-wrote Pickleball For Dummies.