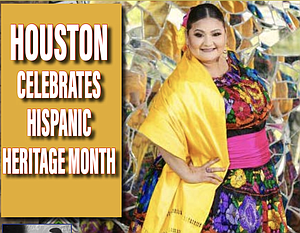 The public is invited to join Houston First Corp. (HFC) as it presents Party on the Plaza in celebration of National Hispanic Heritage Month.
In honor of the contributions and achievements of Latinos and Hispanic Americans, the plaza at Avenida Houston will come alive Saturday, September 17, 2022 from 6 p.m. - 10 p.m. with music, dance, visual art and other festivities all free to the public.
Featured Entertainment:
6:00PM – 6:30PM: DJ Mexican Blackbird - Kicks off the day with Afro-Tejana sounds
6:30PM – 7:00PM: Vanessa Alonzo con Mariachi - Mariachis with world-renowned lead singer, and Houston native, Vanessa Alonzo performs

7:00PM – 7:15PM: DJ Mexican Blackbird - Returns with Afro-Tejana sounds
7:15PM – 7:45PM: Tango & Salsa Dancers - Brazilian samba dancers from LD Dance Company will perform, as well as Argentinian tango dancers featuring bandoneon player Pablo di Lauro with dancer Susana Collins
7:45PM – 8:00PM: DJ Mexican Blackbird - Returns with Afro-Tejana sounds
8:00PM – 9:30PM: Latin Caravan Band - The main event, Charlie Perez and His Latin Caravan band will perform popular musical styles from Latin America including, Cuban, Salsa and Brazilian samba.

Other Activities:
This family-friendly day of fun will include arts and crafts stations, face-painting and more. Watch as Gelson D. Lemus aka w3r3on3 paints a live mural on the Avenida wharf and shop in an open-air market at Discovery Green Flea by Night.

Art Exhibit:
Additionally, Houston First Corp. is presenting Recuerdos de Juventud, Memories of My Youth by local artist, Guadalupe Hernandez. The exhibit is on display through November 6, 2022 in Partnership Tower, 701 Avenida de las Americas, Houston, TX 77010. (2nd Floor Garage Lobby of Partnership Tower)
Using photos taken on family trips to Mexico and his hometown of San Miguel de Allende, Hernandez reinterprets his childhood memories and family stories, uniquely and beautifully celebrating his cultural identity with two countries.

Avenida Houston is located between the George R. Brown Convention Center and Discovery Green Park.
All events are free and open to the public.
ABOUT HOUSTON FIRST CORPORATION
Houston First is the official destination management organization for the city of Houston. In addition, Houston First owns the Hilton Americas-Houston hotel, manages the George R. Brown Convention Center along with 10 city-owned properties and developed the Avenida Houston entertainment district. Learn more at HoustonFirst.com and VisitHouston.com.