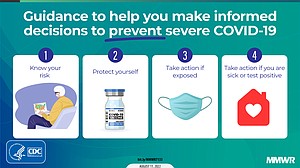 On September 1st, the CDC recommended that all ages 12 years and older in the U.S. receive an updated Covid 19 booster before a possible surge in illnesses later this fall and winter. Staying up on all vaccines - especially those with compromised immune systems who should stay up to date on your vaccines & boosters to significantly reduce the risk of getting sick, being hospitalized, or even dying. Like the original boosters, the updated doses help restore much needed protection that might have gone down since your last dose, but they also give extra protection for yourself and those around you against the most recent variants.
The updated booster is a bivalent vaccine because it targets two Omicron subvariants: BA.4 and 8.5. These newest subvariants are more contagious and able to evade protection that your body might have against earlier subvariants. Data suggest that the updated boosters also increase your immune response which will help protect us against future variants.
Flu season is approaching as well, and it is recommended to get both the Covid 19 vaccine, and a flu shot at the same visit. If you haven't gotten your currently recommended dose of Covid 19 vaccine, you should get it as soon as possible along with your flu vaccine.
As of September 7th, the current 7-day average of daily new cases (70,488) decreased 18.8% compared with the previous week's average of 86,853. As of the same date, 610.7 million vaccine doses have been administered in the U.S. Overall, about 79.2% of the total U.S. population have received at least one dose of the vaccine. About 224.4 million people, or 67.6% of the total U.S. population have been fully vaccinated.
We must continue to be vigilant about our health and continue to do what is necessary to protect ourselves, our families, and our communities. Being up-to-date about the vaccines is the best way to protect against severe illness, hospitalization and death associated with Covid 19.