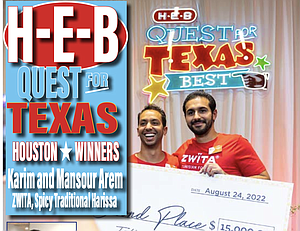 FIVE Texas-based small businesses claim prize money, winning titles, and shelf placement in ninth annual competition.
After tastings and deliberations, H-E-B's Quest for Tex- as Best judges have selected FIVE winners out of the top 10 finalists at the ninth annual competition. The winners of the 2022 event hail from McAllen, Lakeway, Houston, Dallas, and Guthrie, and received a combined $80,000 in cash prizes and coveted space on H-E-B store shelves statewide.
H-E-B will start accepting entries for the 10th Annual H-E-B Quest for TEXAS Best Contest in February 2023 at: www.heb.com/ static-page/quest
"Each year we are amazed by the submissions. The creativity, passion, and determination is truly impressive and inspiring," said James Harris, H-E- B's Sr. Director, Diversity & Inclusion and Supplier Diversity. "H-E-B has been committed to diverse product offerings and workforce for more than a century. As we continue Florence Butt's legacy of an entrepreneurial spirit, we are thrilled to shine light on these five outstanding businesses and their Texan- made products that will add to the diversity of products on our shelves and to our roster of small, local and diverse suppliers. This is one of the many ways we offer so much more at H-E-B."
The 2022 Quest for Texas Best winners are:
$25,000 • Grand Prize Winner Annie Leal
I Love Chamoy, Chamoy Salsa (McAllen)
$20,000 • First Place Winner Ashley Cameron
Love & Cookies, Frozen Cookie Dough (Lakeway)
$15,000 • Second Place Winner Karim and Mansour Arem ZWITA, Spicy Traditional Harissa (Houston)
$10,000 • Third Place Winner (Tie- Burnett Ranches LLC
Four Sixes Ranch, Chuck Wagon Chile Mix (Guthrie)
$10,000 • Third Place Winner (Tie) Brent and Juan Reaves Smokey John's, Smokey John's BBQ Rub (Dallas)
The judges included: Winell Herron, H-E-B Group Vice President of Public Affairs, Diversity, and Environmental Affairs; Mike Jarzombek, H-E-B Northwest Division Senior Vice President of Sales & Marketing; Ashwin Nathan, H-E-B Group Vice President of Marketing; Chris Cecchine, Vice President Sales, and Promotional Strategy; Shirin Odar, H-E-B Senior Vice President of San Antonio Region; Bob Phillips, Texas Country Reporter; and Erin Booke, Food Editor, Dallas Morning News.
Since launching the contest in 2014, H-E-B has reviewed more than 5,381 samples of the most creative and mouthwatering Texas-made food, beverages, and general merchandise, deemed more than 860 products worthy of shelf placement their businesses.