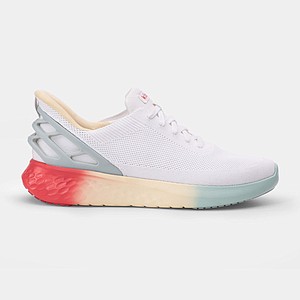 At one point in time, tennis shoes were not always as high tech and complicated as they are today. However, advancements in technology have motivated shoe designers to push the envelope when it comes to comfort, style, and functionality. Now tennis shoes are just as acceptable at work and formal occasion as they are at the gym. Even with this new range of acceptability has not cause shoe designers to stop pushing to continue to create some of the most innovative shoes of our time. In steps Kizik taking their shot to make sneaker culture history with their patented hands-free technology.
Shoe inspiration can come from everywhere and anything. In 1973, it was the waffle iron that gave inspiration for Nike's Waffle Trainer tennis shoes' sole to provide a better grip of surfaces. Later, Nike would take inspiration from bubbles encapsulating them in the sole of shoes for better impact protection of a person's muscles, joints, and tendons. Adidas would be stimulated by the technological brain of computers and use that to record and save distances of wearers with a calculator built inside the shoes. Adidas would improve on that with torsion technology to better the stabilization of one's feet. Reebok looked at an air-pump and put it in shoes to give a better fit while Asics Gel added more cushioning. One of my all-time favorites came from Nike with their auto-lacing Electro Adaptive Reactive Lacing. But nothing, at least for this writer, has made me happy than what Kizik has done to tennis shoes.
I can't tell you how many times I have tried to run out the house without having to undo my laces, twist my foot back-and-forth, put on my shoes halfway or finally giving in by stopping to stoop down and use two fingers to pull up my now crushed heel. I don't care how you try there is no easy way to put on tennis shoes. Kizik's shoe designers must have been in all of our heads because they have down the impossible…made the lace up tennis shoe a slip-on. Whaaaaaaat! Yup, you read that right. The lace up tennis shoe is now a slip-on thanks to the hands-free technology from Kizik.
You can now say, "Look Ma, no hands" when it comes to putting on tennis shoes. I know I was in disbelief until I got to try it for myself. I received a beautiful soft iliac purple pair of Kizik Women's Athens for review. This shoe comes in 14 different colors from the lightest white crème to the darkest black. A breathable knit woven material covers the top of the shoe which is something I can truly appreciate since my feet sometimes get clammy and need the air circulation. Materials used throughout the construction of the tennis are removable and washable. The thick rubber sole pads improve traction so the shoe can really take hold of surfaces. Rabbit foam® outsoles makes shoes so comfortable that you could stand up all day and not have your feet hurt once.
My real fun came as I put the shoe on for the first time. Just like advertised, I slide my foot inside the shoe and like magic the heel went down and popped back up once my foot was snugged inside. No need to bend down to readjust or twist left or right. You will never have to bend over, lace up, squash your foot, and almost break your fingers trying to put your tennis shoes on ever again. It is a good fit the first time. You would probably never guess the secret behind the technology, and it is hiding right in plain sight. The heel arc that resembles a cage at the back of the shoe is not a decorative element but the science of the pop. As you slide your foot in, the cage compresses and once your foot is inside the shoe the cage springs back in place all without using your hands.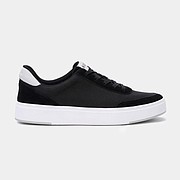 The patented technology is getting rave reviews from the very young to the well-seasoned. Parents have exclaimed how children can put on their shoes all by themselves increasing their confidence in their abilities. Adults are happy to be able to rip out the door fast since they don't have to go through the frustrating routine usually associated with putting on tennis shoes. The elderly, people with medical conditions, and pregnant women feel more independent in dressing since they no longer have to bend down and over to put on or tie shoes risking injury. Kiziks are true lifesavers for all.
"We stand on the intersection of a changing industry, changing consumer trends and a better way to make and put on shoes," said Kizik CEO Monte Deere. "Rather than find 'a way' or 'the way' to make hands-free shoes, we have continued our founder's quest to find every way to simplify the way people put on their shoes. Our relentless culture of innovation has driven us to introduce dozens of groundbreaking hands-free technologies. And we will never tire of seeing our customers experience the life-changing moment when they put on their first pair of Kiziks."
Kiziks will be the last shoes that you will ever want to have. Available for women, men, and kids in a vary of colors, styles and price ranges. Find out more information about Kizik online at Kizik.com.