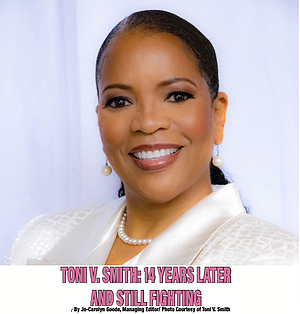 A boxer never steps into any ring ill-prepared. Muscles in their body must be trained for weeks to condition the body, build endurance, and enhance speed. The mind must be trained as well. Unless a boxer believes he is stronger and faster he has already lost the fight. But how do you prepare for a fight when the onset is not known. There is no time to plan strategy or get your guard up. You are sucker punched from the beginning leaving you confused as to whether bob and weave or duck and jab. How does one prepare for the fight of your life? You give it all that you have and then you give it some more.
In 2008, Toni V. Smith found herself in one of those kinds of fights. May 29th became a day that she would never forget. As she was getting dressed for work, she felt uneasy that something inside her was not right. Then, when she stretched out her left arm, she felt a sharp pain in her left breast. Investigating the root cause of the pain, she discovered a lump the size of two fingers.
She felt a lump
Smith's thoughts instantly were of breast cancer and then flooded with memories of her Aunt Lena, her mother's sister. Her aunt had died from breast cancer at 27, so Smith knew there was a high probability that the lump she felt was cancerous. The more she tried to remain positive and not dwell on it, the more the opposite occurred. Thoughts of fear and negativity took over her mind. She decided to fight fear with faith, so she called her doctor, not her earthly doctor. But her doctor in heaven who never met a problem that He couldn't solve. ¬¬¬Never had a situation that He couldn't turn around. Smith prayed to God and turned over all her worries to Him.
The next day after discovering a lump in her left breast, Smith made an appointment for a mammogram. The test was hard for her since she was already in pain, and the exam made the pain unbearable. Almost as troublesome was thinking about how long she would have to wait for the results. The time wouldn't be as long as she thought. Before she even left the office, she got a call from her primary care doctor that the Women's Hospital Breast Center had contacted her about her breast exam. Dr. Theresa Robinson told Smith to make an appointment for a biopsy of the lump as the results were concerning.
The longest week ever
Smith had to wait seven days before she would know the news of her biopsy. Finally, June 9, 2008, rolled on the calendar and became another date etched in her mind. Surrounded by her support system, she prepared for the news. But she never heard the words, 'You have breast cancer.' Instead, her mother and sister's faces told her. All she had to do was look at their lowered heads, quivering lips and tear-stained cheeks to know the news was not good. With that news, it was time for Smith to put it in gear and take action. Things began to move quickly after being officially diagnosed. Her doctors wanted to identify the type of cancer and aggressively fight it. That was a plan Smith could get behind since she was ready to fight too. Before knowing the type or stage, Smith knew breast cancer would not run her life. She wanted a double mastectomy to remove both of her breasts.
Two weeks later, Smith learned that she had Stage III, Triple Negative Aggressive Grade 3, Invasive Ductal Carcinoma, one of the most challenging breast cancers to treat. Hearing the news, Smith prayed and went into fight mode.
"I had a choice to get busy living or die, and I chose to get busy living," said Smith. Throughout her six months of chemo, 20+ surgeries, and countless blood transfusions, Smith made many important decisions. First, she chose to stay positive. She decided to stand by her faith, lean on her support team, and not give up, most important, she chose to fight for her life.
Smith had to part ways with doing what she loved about life for the moment. No more being a hairstylist. No more pursuing the entrepreneur life. No more investing in herself as a mortgage broker and real estate agent. Her life was flipped, twisted, and tossed upside down. She had to put all her energy and focus on beating breast cancer. Lucky for her, she didn't have to do it alone. She had mom, sisters, and a host of other family and friends. Roles were reversed as Smith was no longer big sister caretaker but the sister in need care receiver. Her family and friends were her support, and her doctor had assembled a #1 dream team. Smith put on her virtual armor blessed by God and put her dukes up. She was ready to fight, and cancer wasn't going to win.
Her toughest opponent
Six months of four-hour chemotherapy treatments left Smith with no appetite, no fingernails or toenails, dry skin, and no hair. Her breast had been replaced with a prosthesis that she referred to as her slingshot. She had a wig that sometimes made it on her head and sometimes not. Her emotions were all over the place as the medicine and cancer took over her body. Throughout her battle with cancer, she never missed a day's work. She used humor on her low days and thanked God every day. Her family and friends became everything and anything she needed because they all were in the fight together.
Breast cancer is not a stranger to the Smith family and is heredity. Smith's Aunt Lena died of breast cancer when Smith was eight. Her first cousin, Dr. Carla Lee, was diagnosed with breast cancer in 2004, four years before Smith. Next was Smith's mother who was diagnosed with Triple Negative breast cancer in March 2012. Now with Smith becoming fourth woman to have breast cancer, the remaining Smith sisters and her mother got genetically tested for the BRAC 1 gene. Smith had already been tested and knew she was negative for the BRAC 1 and BRAC 2 genes. However, that preventative care revealed one sister was negative for the cancer gene; her mom, two of her sisters, and her first cousin all tested positive for the cancer gene. With that new news, her eldest sister, Carmen scheduled herself for a biopsy where tumors were seen but they were benign. Carmen didn't waste any time and opted to have a prophylactic double mastectomy on the same day their mother had her double mastectomy and breast reconstruction. Her younger sisters, Mary and Lena, also chose to have a prophylactic double mastectomy, breast reconstruction, and full hysterectomy. The Smith women were taking control and their power back from cancer.
Smith's next move
Breast cancer indeed changed Smith as a person. She was fierce and fired up because she took on her toughest opponent and won with faith, family, friends, and her dream team. Wait is no longer in her vocabulary. She is not putting off tomorrow what can be done today. Starting with earning her college degree. Smith earned her Bachelor of Science degree in Sports Management with a concentration in Business Management as magna cum laude graduate in 2 ½ years. She followed that by getting her MBA, graduating with honors at the top of her class, and now is pursuing her doctorate in Organizational Leadership.
Smith is using her life to empower others to gear up to fight their own battles with all their might, just as she did. She is not done fighting. This time she is not fighting for herself but for the residents of Fort Bend County. Smith is running to be the next Fort Bend County Clerk.
Some might say that she is following in her big sister's footsteps, Fort Bend Tax Assessor Carmen P. Turner. Smith would say that fighting for people in need has always been ingrained in her and woven throughout her family's DNA. She and her five siblings had front-row seats to learn why serving others was so important by watching the examples of their parents and grandmother. Volunteering and working in the community was something they always did throughout their adolescence; they were not always sure what they wear doing but knew they felt great helping people, which made them feel eternally blessed. Performing acts of community service taught her to always honor her ancestors, respect all people, and operate with excellence.
Why she wants to fight for Fort Bend
"I am running because public service is part of my DNA." Smith continued, "I am a survivor. I am a fighter who will fight for you in the county clerk's office. I will do that with the highest ethical standards, transparency, respect for our community's diversity, and a commitment to exceptional customer service."
As County Clerk, Smith says that she will bring her 38 years of experience as an entrepreneur to do the job with justice and integrity. She references her fight with breast cancer as the help that shaped her to know how to fight for the residents of Fort Bend County. She did not give up on herself and will not give up on Fort Bend.
As a resident of Fort Bend County, Smith has been amongst the people listening to conversations. She knows first-hand what people want and need because it is some of the same things that she wants and needs. She heard the questions because she had the same ones herself. But what she didn't hear were solutions to the problems or ideas for innovation to push the county forward. That is when she knew she could not sit back any longer. She had to stand up and step out. She had to get in the fight for a better future for her community.
Her top priorities as Fort Bend County Clerk are:
• Fighting on residents' behalf for a fair, transparent, and inclusive election process
• Priority service for veterans and senior citizens
• A more accessible and efficient website
• Express pickup for simple online requests
• More convenient office locations to accommodate Ft. Bend's growing population
Smith promised herself that she would harness her talents, life experiences, education, strong tenacity, blessings, and fervor for success and turn them into another successful and philanthropic chapter in her life. Cancer was only a setback for her ultimate comeback.
Smith requests your support and vote as the next Fort Bend County Clerk.
Learn more about Toni V. Smith and her campaign to become the Fort Bend County Clerk online at ToniVSmith.com.
Make sure you are registered to vote and vote in the early election or election day.