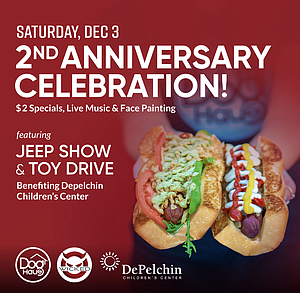 Dog Haus Biergarten Copperfield is turning two, so what does it want? Toys, of course!
But unlike most toddlers, Dog Haus plans on sharing those toys and having more fun as part of its Second Anniversary Celebration. So, on Saturday, Dec. 3, join the Dog Haus crew at 8422 Hwy 6 in North Houston as it hosts a birthday bash from noon to 3 p.m.
Dog Haus is down with others crashing the party too! No evites are necessary, just share the details with your friends here.
The Second Anniversary Celebration will feature live music, face painting and games for the kids as well as a car show featuring vehicles from Wicked Jeepers, an auto club of Jeep enthusiasts in the Houston area. There will be $2 drink specials and everyone is encouraged to bring a new, unwrapped toy as Dog Haus and Wicked Jeepers will donate all collected gifts to Depelchin Children's Center.
Depelchin Children's Center adheres to a mission of keeping every child safe and healthy. The non-profit organization supports children in the Houston area through various programs including adoption, foster care, counseling and in-school programs.
"Turning two is always a big deal, but we know it's a huge occasion for children, so we wanted to share the joy by giving back to this community that has shown us so much love," said Jason Rappaport, Dog Haus Franchisee. "We know we wouldn't be here without the people of Houston's support. We wanted to have a great time celebrating this accomplishment with them, but also encourage everyone to give back. The folks at Depelchin Children's Center do so much and can always use a hand!"
Dog Haus Biergarten will host a Second Anniversary Celebration, Jeep Show and Toy Drive.
Saturday, Dec. 3, from noon to 3 p.m.
Dog Haus Biergarten Copperfield, located at 8422 Hwy 6 Houston, Texas.
For up-to-date location and brand information, visit doghaus.com or follow Dog Haus on Facebook, Twitter and Instagram. Don't worry Houston Biergarten fans; you can keep up with your friends at the Copperfield Haus.