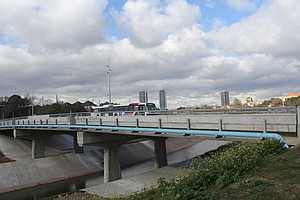 The Harris County Flood Control District completed the more than $4 million construction project to replace the Ardmore Bridge over Brays Bayou with a higher, longer, and wider bridge to reduce the risk of flooding in the area.
"All of our residents deserve to have protections against flooding. We have seen the devastating impact that floods can have on our region, and I am proud that this project will bring much needed relief to the thousands of residents and business in the watershed," said Harris County Precinct One Commissioner Rodney Ellis. "The Ardmore Bridge will not only benefit 8,800 daily commuters who use it, but it will provide an expanded sidewalk and shared-use bicycle paths for pedestrians and cyclists to benefit from as well."
"The completion of Ardmore Bridge brings us ever closer to finishing the multiyear Project Brays effort," said Russ Poppe, executive director of the Flood Control District. "While the community has already experienced benefits from the previously completed portions of Project Brays, we look forward to completing the entirety of Project Brays this year."
The bridge includes two 11-foot-wide through lane in each direction, a left turn lane, a U-turn lane, and an expanded 10-foot sidewalk. Sections of North and South MacGregor were also improved to match the new bridge elevation and the intersections were re-built with additional traffic lights, storm sewer inlets and street striping. The City of Houston contributed toward the cost of the sidewalk enhancements.
The Ardmore Bridge is part of Project Brays, which is a $480 million partnership effort between the U.S. Army Corps of Engineers and Harris County Flood Control District. With most of the channel modifications completed, there are nine bridge replacements or modifications that remain along the bayou to reach the full benefits of Project Brays.
The Flood Control District has completed 21 miles of channel improvements, built four stormwater detention basins covering a total of more than 800 acres, and replaced or modified 23 bridges (of the 32 total bridges needing to be replaced) to bring Project Brays to more than 90 percent completion to date. When complete, Project Brays is expected to reduce flooding risks for more than 15,000 structures in the watershed. For more information, visit www.projectbrays.org.