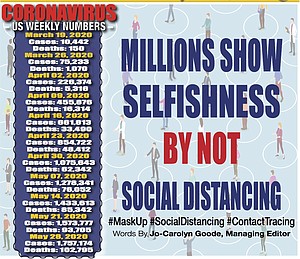 How selfish can you be? There are 5.64 million confirmed cases of COVID-19 worldwide with the United States accounting for 1.72 million of them. Still you choose not to follow the rules. The US leads the world in the number of coronavirus deaths toppling over 100,000. Yet, still you choose not to follow the rules. Even though you know the coronavirus is a respiratory disease that is highly contagious and does not discriminate or show any mercy to those who are infected. You still choose not to follow the rules. You put your needs before the health of others all in the name of having fun. You totally disregard public health by going out in large crowds unprotected and not social distancing raising your chance of being infected with COVID-19. Despite knowing that, you still once again chose not to follow the rules. You say it is a violation of your rights to be forced to wear a mask. But not violating your rights violates the rights of others. That is of no concern to you because you still choose not to the follow the rules. So again I ask how selfish can you be?
During a weekend meant to honor military men and women who fought for our freedom and pursuit for happiness, millions across the country packed pools, parks, bars and other public spaces without wearing masks or practicing social distancing. CNN reports that four parks in Travis County in Texas had to close for overcrowding. South Padre Island saw unusual size crowds on their beaches and in bars. Houston saw of influx of gatherings throughout the city.
Governor Greg Abbott has been slowly loosening the restrictions of stay at home orders to allow nonessential businesses like bars to reopen with diminished capacity. A disappointed Mayor Sylvester Turner spoke about all the photos he received of people packing out facilities. Over 300 complaints were received by city officials about those violating the state's capacity order. The Houston Fire Department will now have to change their focus of educating business owners to enforcing the 25% capacity order or the business will be shut down for noncompliance. Houston Fire Chief Sam Pena said business owners were taking advantage and stretching the rules under the guise of opening as a restaurant vs. a bar to increase their capacity.
"We want people to voluntarily comply with the rules that apply to everyone. Others intentionally, blatantly, publicly violate them," said Mayor Turner.
Those who were in these celebratory gatherings are encouraged to get tested for COVID-19 as a precaution since some individuals are asymptomatic.
"You are exposing everybody who is there," said Mayor Turner as he added that other rights stop where his begin.
The decision of the mayor to have firefighters step up their efforts to make business owners comply with the rules was met with controversy by the Houston Professional Firefighters Association. The organization argues that more clarity and guidance is needed for firefighters to carry out the directive.
Gathering in large crowds with no masks and not social distancing is just like committing a crime since the action to disregard others' health in such a global pandemic could lead to the death of others. People need to understand if they continue to not wear masks and social distance a second wave of positive coronavirus cases could rise. With the increase number of cases authorities and hospitals may not be able to get a hold on it thereby returning the now loosen restrictions. In others words, we would go backwards instead of forward in fighting the coronavirus. It is the essence of one bad apple spoiling the bunch.
Although health officials know more about the coronavirus than they did when it first made light in December 2019 in China, they are still don't know everything. Medical personnel are still learning all aspects of the illness from the way it spreads to how it attacks the body. Version of it may be linked to new illnesses found in children. Treatments are continuingly being tested. A vaccine has not even been found. And there is still so much more that is unknown about COVID-19.
Sure you may be healthy now showing no signs and symptoms but tomorrow is not promise to anyone. Why tempt fate like that. Realize the global pandemic has changed our world and the way we live and interact with one another has to change in order for it and us in it to survive. That is going to take the help or cooperation of every person in this city, state, America, and the world.
We must wear masks when out in public. We must practice being six feet apart from each other. We must follow the guidelines of governmental officials. For so long we have been behind the ball of this thing and now is our time to try to get in front it.
Be smart. Be responsible. Think of others. Stay safe. Wear a mask. Social distance. We are all in this together.