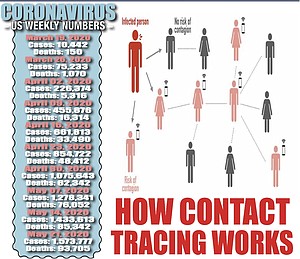 As a child, I remember playing a game called Connect the Dots. It was a game with the concept of drawing a line from one dot to another in chronically order to form a picture. What was just something for me to do is now a leading tool in the battle to flatten the curve and stop the spread of the coronavirus.
Contacting tracing is similar to my childhood game by connecting people or contacts that have or have had COVID-19, the dots, to those with whom they have come in contact with, the other dots, until they find the source of the infection, the COVID picture. This technique is not new to the medical field but a proven method that has been tried and tested. Contact tracing has been implemented to control diseases that are vaccine-preventable, blood-borne, bacterial, and novel like smallpox, tuberculosis, measles, SARS-CoV, and sexually transmitted infections. Beyond that purpose, information gained from contact tracing is also helpful in the investigation of new diseases to learn their epidemiology and get the specifics of the how, when, and where a disease occurred.
A trace begins when someone with the disease of study, in this case, COVID-19, has been reported either by health officials, the infected individual or by other means. Once identified a contact tracer will then interview the infected person to retrace their interactions with others noting everyone with whom they made contact. The contract tracer will reach out to all those that interacted with the infected individual to make them aware that they were exposed to someone with the disease. Those individuals will then get tested and treated, if needed, and be put in quarantine. It is the thought that contact tracers can follow the steps of the infected individual to the initial source of the chain reaction thereby slowing the spread of the disease.
The Texas Department of Health and Human Services has developed a Texas Health Trace System. The system works by encouraging those with or who have had COVID-19 to register themselves on their website. Individuals can check their symptoms and report exposure to the coronavirus. People can also find sites to get officially tested, learn what to do if they are diagnosed, and get things they may need to self-isolate. Upon registering a contact tracer may then follow up with the individual. The website is txctt.force.com.
On the local front, the Texas Medical Center has said that Houston needs a minimum of 1,000 contact tracers. Recovery czar Marvin Odum, appointed by Mayor Sylvester Turner, is leading Houston to expand testing and add 300 contact tracers at a cost estimated at $200 million. The goal is to have 24 sites throughout Houston that are drive-through and mobile in the areas where the most vulnerable live. Currently, Houston has 125 contact tracers. Others are planned to be hired as contact tracers at various upcoming job fairs.
Some of those new hires will be trained through a partnership the city has with the University of Houston medical school. They are orchestrating an online program that takes 12 hours that can be done in one sitting or over the course of four days. Right now the UH program is targeting UH students first and faculty second to be trained as contact tracers. A plan to train the general public is forthcoming.
In collecting data, contact tracers are privy to some very private and sensitive information so naturally a new contact tracer has to be trained with certain skills. A contact tracer must be skilled with patient confidentiality, crisis counseling, interviewing, sensitivity, and resources. Gaining information of this type brings a bit of controversy and hesitation to some who believe their rights are being violated. As it relates to public healthcare workers, they are bound legally to stop the spread of infections that are transmitted from person-to-person, airborne, or by person-to-insect and inform others who may have been in contact with an infected person. On the flip side, the actions of their duty interfere on the right of the public to have medical confidentiality. In turn, those infected with such communicable diseases may feel threatened or not seek treatment from fear of backlash like discrimination, abuse, and other stigmas. Thus, creating a slippery slope.
When faced with an estimated 91,499 deaths and 1.55 million confirmed positive cases, sliding down a slope might be necessary. Preventative measures like that of wearing a mask in public is highly suggested but many are choosing to ignored this practice claiming it's a violation of their rights. But what about the rights of those who want to remain healthy? Those who are enforcing their right to not be forced to wear a mask by the government are putting the lives of those who want to remain healthy in jeopardy. So who is really right or wrong here?
In the days of the COVID-19 pandemic, there are no winners or losers. There are only survivors. People who are doing the very best they can to get ahead of this thing so life can once again have some since of normalcy. We are all just trying to
see another day, hug our loved ones, and live outside. The road to that life can only be achieved with progressive treatment, increased knowledge, acting smart, being fully cooperative, working together, caring for your fellow man, and looking at the bigger picture to save lives.