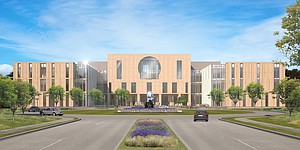 Maya Fontenot was gifted with a natural aptitude for science and math, but her passion for medi- cine and activism started as a child in southwest Houston. Though she grew up middle class, Fontenot recalls frequent visits to the county hospital with aunts and uncles who struggled with poverty... and their health. Those eye-opening and alarming experiences gave her a glimpse into the challenges "a poor person seeking medical care" can face.
Now back home in Houston, Fontenot will return to the hospital setting under very different cir- cumstances — as one of 30 medical students in the University of Houston College of Medicine's inaugural class.
"I wanted to be an advocate for poor commu- nities of color, like my family, so I majored in sociol- ogy to analyze the societal factors impacting health and health care," said the recent Baylor graduate.
With a bold and fresh new approach to medical education, the city of Houston's first medical school in nearly 50 years is tackling a key contributor to poor health — a shortage of primary care doctors. By addressing key factors that affect their patients' health such as food insecurity, the environment and housing, these future doctors will help eliminate health dispari- ties in underserved urban and rural areas, which often have poorer health outcomes.
"I grew up on these inner-city streets and coming home to UH for medical school is a dream come true," said Fontenot, who is African American and Native American. "During the interview process, I didn't have to ask 'what are you going to do for poor communities and communities of color in this city?' It was at the forefront of every message they shared. I had never felt there was an institution that prioritized it as much as I did and that is really exciting."
help underserved communities. "In college as a pre-med student, I would email
physicians at TMC to set up shadowing opportunities, but I was embarrassed to say I had never seen a phy- sician in the United States," recalled Cengiz, who has worked as a research assistant and tissue engineer at Baylor College of Medicine. "Immigrant populations are often embarrassed to seek health care because they are intimidated by the medical community. So, I thought someone like me will be able to better under- stand their issues and why they would be reluctant to seek help."
Orientation week starts July 20 and the first day of fall courses is July 27. The Health 2 Building in the UH Medical District will be the college's tem- porary home for the first two years until a new $80 million medical school building is completed in 2022. Construction crews just broke ground on the new building June 15 and the progress can be viewed on this time lapse construction camera.
At full enrollment, the College of Medicine will have 480 students, but the first 30 — already talking regularly on a virtual chat — are eager to get started and set the standard for excellence. "I came a long way from washing dishes at 14 at a pizza store. My parents are super proud of me," said Cengiz with a smile.