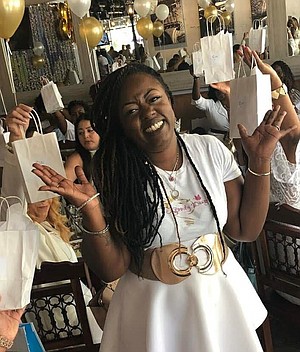 Kgoody Kollection products are considered "the Truth'' by many. Kgoody Kollection Quenching Oil has rave reviews and is safe for all ages. "Best growth oil ever!," states a review by Raquel D. on May 11, 2020. She goes on to say, "Love, love, love this oil. I have been using this oil for 1 1/2 week and I already have new growth and my scalp is so healthy." The Kgoody Kollection brand is a revolution to the Natural Hair community, offering high-quality ingredients at economical
prices. These hand-crafted products help stimulate overall scalp health, continuous hair growth, are organic, vegan-friendly, and cruelty-free. More- over, the products help combat itchy, flaky scalp, thinning, and shedding hair. Kgoody Kollection products are even great for scalps that have growth issues caused by Alopecia, with an abundance of natural oils and ancient herbal remedies. The products were created out of necessity to help Kgoody overcome her own hair loss after surviving an almost fatal stabbing.
Quenching Oil uses olive oil as a fortified carrier with a blend of six concentrated essential oils that can be felt on contact. When applied properly, directly to your scalp it can help to prevent dandruff, fungus, eczema, pso- riasis, and help with alopecia or other scalp issues that lead to dry, brittle hair or hair loss. Quenching Oil was created to moisturize and stimulate hair growth in shrinkage-prone hair. It is made with oils, rich in antioxidants and vitamins, making it light and easy to absorb, which aids in the overall health of your scalp, hair, skin, and nails. The product contains no sulfates, no mineral oils, and no parabens. It is 100% organic and is produced in a GMP facility.
RETAILERS: Walmart.com, Independent Beauty Supply Stores, Independent Salons, KgoodyKollection. com
WEBSITE: