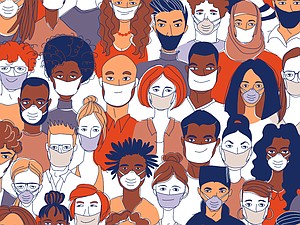 By American Heart Association News
Just as the coronavirus pandemic strains states and the nation, it also has stressed the resources of neighborhoods and individuals.
And those with fewer resources to spare are clearly faring worse.
An analysis from the newspaper USA Today found that among the nation's poorest neighborhoods, where median household income is less than $35,000, COVID-19 infection was twice as common as in the nation's wealthiest ZIP codes, with income higher than $75,000. Infection rates were five times higher in ZIP codes with mostly nonwhite residents than in ZIP codes with a nonwhite population of less than 10%.
An analysis from Yale School of Medicine and the University of Pittsburgh also captures the dire COVID-19 picture among historically disadvantaged communities. African Americans are over 3.5 times as likely, and Latinos are nearly twice as likely, to die of the virus, compared with white people.
Black people account for 13% of the overall U.S. population but nearly a quarter of COVID-19 deaths where patients' race was reported, according to The COVID Tracking Project, a volunteer effort to track coronavirus cases and deaths across the U.S.
COVID-19's disproportionate impact on Black and Hispanic people and people from lower-income neighborhoods may trace in part to higher rates of underlying conditions such as diabetes and uncontrolled high blood pressure, experts say, which make an infection with the coronavirus riskier.
When COVID-19 strikes, it launches an assault not just on the lungs but also the heart, kidneys and brain, said Dr. Ivor Benjamin, director of the Cardiovascular Center at Medical College of Wisconsin. For someone already overtaxed by underlying disease, the body tries to manage all the illnesses but struggles.
"An already stressed system has very little reserve," Benjamin said. "If there are existing health challenges to the body, the body has maximized its ability to deal with the existing stress."
However, the story of what underlies inequities in COVID-19 outcomes goes deeper, said Benjamin, immediate past president of the American Heart Association. While underlying conditions can be influenced by both genetics and environmental factors such as diet, another layer of influence, called social determinants of health, is critical.
Social determinants of health are the economic and social conditions into which people are born and live. They include housing and food security, public safety, and access to affordable health care and transit. Social determinants impact the health of individuals and groups and are shaped by the distribution of money and other resources.
"COVID-19 is not a great equalizer but really brings to the forefront some of the many issues in health inequities that have plagued our country for decades," said Dr. Garima Sharma, assistant professor of medicine at Johns Hopkins Ciccarone Center for the Prevention of Cardiovascular Disease in Baltimore.
An AHA statement last month prompted by recent killings of African Americans notes that pre-existing social conditions, including lack of access to quality health care, jobs, education and housing, have laid the groundwork for the heavier toll COVID-19 has taken among disadvantaged communities.