Boosting immune function through a healthy diet has become an important new focus for many people these days. One key dietary recommendation is to eat more fruits and vegetables each day to improve immune function and prevent heart disease and diabetes. When looking to guide your family to healthier snacks and meals or simply trying to mix up your at-home menu, success can be as simple as rethinking the ingredients you choose to use, including your favorite produce, such as grapes.
Fresh California grapes, for example, make for an ideal snack because they are tasty, healthy, hydrating and refreshing, but grapes can also be used to make good-for-you dishes that are also satisfying and delicious. Grapes of all colors – red, green and black – are a natural source of beneficial antioxidants and other polyphenols. Plus, they are naturally fat-free, cholesterol-free and contain virtually no sodium.
Try recipes like Moroccan Grape and Grilled Chicken Bowls with Grape Vinaigrette, Spiced Chickpeas and Grapes with Yogurt, and Cauliflower Steaks with Grapes to pair heart-healthy grapes with other nutritious ingredients and add variety and fresh appeal in the kitchen.
Visit GrapesFromCalifornia.com for more nutritious family recipes.
Moroccan Grape and Grilled Chicken Bowls with Grape Vinaigrette
Servings: 4
Couscous:
1 cup Israeli couscous
2 tablespoons extra-virgin olive oil
1/2 cup carrots, thinly sliced
1/2 cup tomatoes, diced
1/2 cup parsley, leaves only
1 1/2 teaspoons ras el hanout (Moroccan spice blend)
1 teaspoon salt
Chicken:
2 chicken breasts (8 ounces each)
1 tablespoon harissa paste
1 tablespoon extra-virgin olive oil
1 teaspoon salt
Vinaigrette:
1/4 cup green California grapes
1 lemon, juice only
1 preserved lemon, rind only
1/4 cup extra-virgin olive oil
2 tablespoons cilantro, chopped
salt, to taste
ground black pepper, to taste
1 cup red California grapes, halved
1/2 cup sliced almonds, toasted
To make couscous: Cook couscous in boiling salted water. Drain, rinse with cold water and combine with olive oil. Add carrots, tomatoes, parsley leaves, ras el hanout and salt. Mix well and set aside.
To make chicken: Heat grill to medium-high heat.
Rub chicken breasts with harissa paste, olive oil and salt. Grill on both sides until just done. Set aside to cool. Slice into 1/4-inch slices.
To make vinaigrette: In blender, puree green grapes, lemon juice, lemon rind, olive oil and cilantro until smooth. Add salt and pepper, to taste.
Toss couscous mixture with vinaigrette and portion into four bowls. Top with sliced chicken, red grapes and almonds.
Nutritional information per serving: 590 calories; 30 g protein; 44 g carbohydrates; 32 g fat (49% calories from fat); 4.5 g saturated fat (7% calories from saturated fat); 65 mg cholesterol; 720 mg sodium; 3 g fiber.
Spiced Chickpeas and Grapes with Yogurt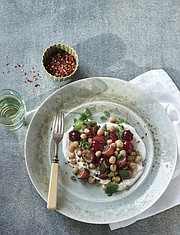 Prep time: 15 minutes
Cook time: 5 minutes
Servings: 4
1 can (15 ounces) chickpeas, rinsed, drained and patted dry
1 cup California grapes
1 tablespoon peanut oil
1 1/2 teaspoons mustard seeds
1 teaspoon cumin seeds
1 teaspoon fennel seeds
1/4 teaspoon salt, divided