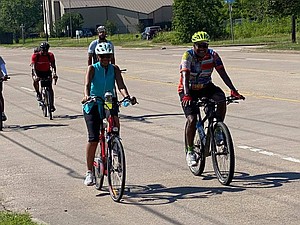 After the Civil War, freed slaves made their way from Galveston to Houston shortly via the Emancipation Trail. On Sunday, June 14, Harris County Commissioner Rodney Ellis and more than two dozen cyclists road the 51-mile route to commemorate Juneteenth.
"Not only did we have fun, we also got a valuable lesson on African American history that's unique to Texas," said Commissioner Ellis, an avid cyclist. "We're hoping to make the Emancipation Trail bike ride an annual event that will remind us of our shared
history."On Sunday, the Emancipation Trail Ride began at Reedy African Methodist Episcopal Church in Galveston, the first AME church in Texas and the site where Union Gen. Gordon Granger read federal orders that Texas slaves were free on June 19, 1865, which later became Juneteenth holiday now celebrated in Texas and other
states. Along the trail, riders stopped at freedmen's towns and historical markers, where they were greeted by historians and community leaders who shared Black history in Southeast Tex- as from the slave trade to civil rights.
"I cannot think of a better way to celebrate the holiday than learning about our past," Commissioner Ellis said. "Picnics and parades are great. However, as Maya Angelou said, 'You can't really know where you are going until you know where you have been.' "
Earlier this year, Congress- woman Jackson Lee and other mem- bers of congress introduced a bill seek- ing a federal study of the Emancipation National Historic Trail that will follow the migration of newly freed slaves after they learned about the Emancipation Proclamation.