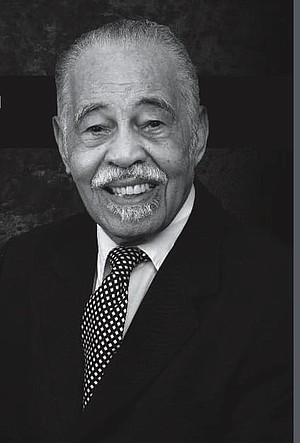 Talk about a life well lived, Dr. Thomas F. Freeman did just that. Traversing on this earth for 100 years, the impact that he made on students, the community, and the world is long lasting. He was the epitome of a living, walking, legend.
A scholar, trained minister and beloved debate coach, Dr. Freeman began his tenure at Texas Southern University in 1949. He was only supposed to teach philosophy for a short period and then move on to go minister at a church in Virginia. But luckily for TSU the then president saw a better future for students after viewing a debate Freeman had assigned to his class. He, too, must have had the gift of words because he convinced Dr. Freeman to stay on at TSU as faculty to head the debate team, a post he never left for more than 8 decades.
Over the years, Dr. Freeman trained some of the best students and celebrities alike. From the award winning actor Denzel Washington for the movie The Great Debaters to the student who had yet to find their own voice. Along the way through his teachings TSU students racked up national and international titles. Dr. Freeman's legacy to students was to never be silent but to always use their voice to be heard.
Dr. Freeman took his last breathe on June 6th. Ten days later he would be laid to rest and remembered by his family, TSU tigers, legislators, celebrities, and communities worldwide. Mayor Sylvester Turner proclaimed June 16 as "Dr. Thomas Franklin Freeman Day" in Houston. Other resolutions from Congresswoman Sheila Jackson Lee and Congressman Al Green were presented. Congresswoman Lee further stated that she would introduce legislation to declare Dr. Freeman as "the greatest teacher the nation has ever seen" and "the longest-serving teacher in the U.S." His beloved TSU will name the new campus Library Learning Center in his honor.
Houston Style Magazine extends condolences to all who mourn Dr. Thomas F. Freeman.