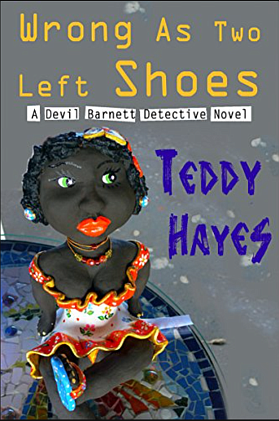 Prolific author Teddy Hayes has developed one of the most unique detective book series over the last 20 years. Hayes' crime genre series features hardened New York City African-American detective Devil Barnett, a "bad ass" private detective seeking redemption from his previous life in the CIA where he was deployed to kill others for a living.
The Devil Barnett series showcases the social commentaries and storylines that Hayes has become known for. With few African-American authors focusing on the crime genre, Hayes' voice is a breath of fresh air and the series offers new insights into black detectives that veer from the clichés of John Shaft.
Hayes, a veteran producer/writer in the entertainment industry, hopes to turn his detective novels into a television or film franchise. The demand for high-quality content is on the rise thanks to Netflix, Amazon Prime, HBO and other outlets, and this will provide viewers with a strong, positive African-American protagonist which would be appreciated by viewers at this time.
Eight books currently make up the Devil Barnett detective series, with two more due for imminent publication. Hayes recently re-launched the third book, As Wrong As Two Left Shoes. which tells the story of a missing musician. This inspired Hayes to take the unorthodox step of creating and releasing a soundtrack to go along with the book. Hayes has made the songs available via Spotify and Dropbox allowing readers to get into the character's head as the story develops.
Gripping, violent, and breath-taking, Hayes' writing style has been praised since his first crime book, Blood Red Blues, was published. Now, with a long list of critically acclaimed detective works under his belt, Hayes aims to be the next Robert Galbraith (Cormoran Strike) or Ian Rankin (John Rebus) but for African-American and black crime genre fans.
According to Hayes, the great thing about his books is once the first Devil Barnett novel, Blood Red Blues, has been devoured, the remainder of the series can be read in any order.
"I wrote the series to give important aspects of Devil's character and life in each of the books," Hayes said. "Therefore, you won't learn everything about him in the first book nor is it needed to read them chronologically to piece information about the character together."
Hayes has already stated the Devil Barnett series will have at least 10 books offering production companies a wealth of material.
"I love the Devil Barnett character and writing the series," Hayes explained. "But there comes a time, however, when the series does need to be put to bed and after more than two decades, I am starting to think about it. But there are some exciting stories still to be told."
As Wrong As Two Left Shoesis available for free download from Amazon until Friday, June 5. For more information on Teddy Hayes, please visit https://www.teddyhayesproductions.com/.