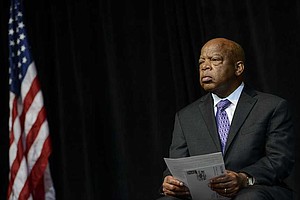 Civil rights icon and US Democratic Rep. John Lewis of Georgia known for fighting for our rights has been diagnosed with the greatest fight of his life, stage 4 pancreatic cancer, his office announced Sunday.
"This month in a routine medical visit, and subsequent tests, doctors discovered Stage IV pancreatic cancer. This diagnosis has been reconfirmed," he said. Lewis, who turned 79 this year, will undergo treatment for it, his office said.
"I have been in some kind of fight — for freedom, equality, basic human rights — for nearly my entire life. I have never faced a fight quite like the one I have now," Lewis said in a statement.
The long-serving Democrat has represented Georgia's 5th Congressional District, which includes much of Atlanta, since first being elected in 1986. He's serving in his 17th term in the House.
Lewis, who as chairman of the Student Nonviolent Coordinating Committee (SNCC) was one of the "Big Six" leaders of groups who organized the 1963 March on Washington, played many key roles in the Civil Rights Movement and its actions to end legalized racial segregation in the United States.
Lewis has been awarded many honorary degrees and is the recipient of numerous awards from high-ranking national and international institutions, including the highest civilian honor of the United States, the Presidential Medal of Freedom.
He acknowledged that he may miss a few votes during that period, "but with God's grace I will be back on the front lines soon."
"I have decided to do what I know to do and do what I have always done: I am going to fight it and keep fighting for the beloved community," Mr. Lewis said. "We still have many bridges to cross."
Stage 4 pancreatic cancer means the cancer has spread to other organs, typically the liver or the lungs. Cancer can't be cured at this point, but there are still treatment options. Treatment during this stage is focused on extending life and improving the quality of life.
According to the American Cancer Society's estimates for 2019, about 57,000 people in the United States will be diagnosed with pancreatic cancer and 46,000 people are expected to die of it.
The median survival rate for stage 4 pancreatic cancer is between two and six months. But keep in mind that an outlook for an individual depends on many factors. Your medical team can provide more accurate information based on your personal health.
Older people are as likely to respond well to treatment as younger ones, though life expectancy among older people with stage 4 pancreatic cancer is shorter. This is especially true if a person's health is further complicated by other conditions, like diabetes and high blood pressure.
"While I am clear-eyed about the prognosis, doctors have told me that recent medical advances have made this type of caner treatable in many cases, that treatment options are no longer as debilitating as they once were, and that I have a fighting chance," he added
Friends and colleagues of Lewis offered their support.
"If there's one thing I love about @RepJohnLewis, it's his incomparable will to fight," tweeted former President Barack Obama. "I know he's got a lot more of that left in him. Praying for you, my friend."
"If there's anyone with the strength and courage to fight this, it's you John," former President Bill Clinton tweeted. "Hillary and I love you, and we join with millions of other Americans in praying for you and your family."
Lewis said he will return to Washington in the coming days to resume work and begin his treatment plan, "which will occur over the next several weeks."
Read more online at Black