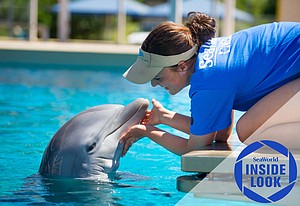 SeaWorld San Antonio will launch its 2020 season Saturday, February 22 featuring a year full of thrilling rides, exciting events and dynamic attractions for the entire family.
NEW this year is SeaWorld's Texas Stingray, the tallest, fastest and longest wooden roller coaster in Texas. This marks a major addition to SeaWorld San Antonio's gravity-defying roller coaster portfolio with five unique coaster experiences. SeaWorld Annual Pass Members will enjoy exclusive ride times during opening weekend (Feb. 22-23), before the ride officially opens to all one week later on Saturday, February 29. On this day, guests are invited to attend a very special grand opening event including a ribbon-cutting ceremony, special guests and exciting local entertainment.
Aquatica's 2020 season begins on Saturday, March 7 and will debut the NEW Tonga Twister. A first-of-its kind water-slide ride in Texas, this body slide features two thrilling, heart-pounding slides, each with distinct twists and turns, and features AquaLucent™ lighting and high energy music.
2020 Lineup
The following family-friendly events, rides and attractions are all included with park admission and are FREE for Annual Pass Members:
NEW: Texas Stingray: Grand Opening Feb. 29
SeaWorld's NEW RECORD-BREAKING Texas Stingray, the tallest, fastest and longest wooden roller coaster in Texas includes a breathtaking one hundred-foot drop and a sensory-bending one hundred-foot long tunnel. This coaster, which reaches a top speed of 55 mph, is located across from the award-winning Turtle Reef exhibit between Orca Stadium and the Rio Loco river rapids ride.
NEW: Tonga Twister: Grand Opening March 7
Coming to Aquatica San Antonio is Tonga Twister, the FIRST water ride in Texas to have two thrilling, heart pounding body slides, each with distinct twists and turns. Tonga Twister features AquaLucent™ tubes that create special effect lighting patterns, giving riders an electrifying light show as they plummet and slide from a height of over 50 feet, navigating 415 feet of twists and turns before splashing down into a refreshing pool. High-energy music piped into the tubes will elevate the excitement and fun.
Sesame Street® Kids' Weekends: March 21-22 and March 28-29
During Sesame Street Kids' Weekends, guests can join Elmo, Cookie Monster, Abby Cadabby and all their favorite furry friends for two fun-filled weekends. Kids will enjoy hands-on activities, photo opportunities with characters, a live DJ and much more. Sesame Street Kids' Weekends is located in the park's Sesame Street Bay of Play area.
Seven Seas Food Festival: Weekends, April 3 – May 25
The popular Seven Seas Food Festival is returning to SeaWorld in the spring with a NEW German realm complete with cuisine, culture, and music. As guests sip and sample their way through the park, they will discover more than 100 unique globally-inspired dishes to devour, and enjoy outstanding wines, craft cocktails, imported beers, live entertainment and fusion food from around the world.
Sesame Street Party Parade: May 23-24; May 30; June 6; Daily, June 14 – Aug. 9
Sesame Street Bay of Play will be a focal point for summer fun with a colorful, musical, show-stopping award-winning parade featuring everyone's favorite Sesame Street friends. The parade showcases 10 larger-than-life themed floats, including iconic Sesame Street favorites such as Mr. Hooper's Store and Count's Castle. The Sesame Street Party Parade also includes a pair of impressive, interactive show stops. At the first stop, performers jump rope, hula hoop and groove with their favorite Sesame Street friends and dancers. The second stars Rosita, a Sesame Street favorite, who likes to play the guitar and is fluent in English and Spanish.