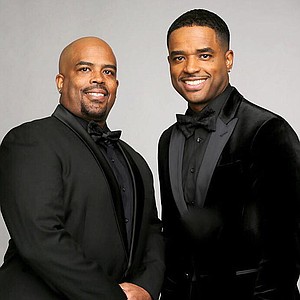 WHO SHOT GHOST? Wasn't the question that was being asked when episode 614 premiered. The questions were surrounding Councilman Rashad Tate and the actor who plays him, Larenz Tate. I scrolled Twitter as #Tate was the #1 trending topic in the world, and I saw everything from "who is Larenz Tate" to "OMG his brother in the show is actually his REAL brother". But the best quote I saw came from a fan that read:
"One of the greatest cinematic roles Larenz Tate played was in one of our cult classics: Menace II Society (1993) where he played O-Dog. That role solidified me as a fan. O-Dog was a sociopath, he had no remorse, no compassion and no mercy due to his environment. A person in their right mind doesn't kill a woman and then drinks a beer immediately afterward, a person in their right mind doesn't kill a crack head for simply suggesting a perverted act. He was a drug dealer and a murderer. Today the authorities would call him a thug when actually, he needs mental help. We saw a change in o-dog when his best friend Caine was dying from gunshot wounds. At that moment we saw compassion, we saw regret. That is the range of Larenz Tate," – OshiBRockin
I couldn't agree more with that statement. The Crash actor who has touched every part of our lives via TV and film shared the episode with his real brother Lahmard who also has been threaded thru our lives via the same mediums with projects like Jason's Lyric, The Fresh Prince of Bel-Air, Barbershop and currently All American. It is because of the range of both brothers that #Tate was trending. Larenz & his brother Lahmard Tate took this gritty, New York drug lord show and within one episode, turned it into a political drama that almost made us forget that we were watching Power.
Power introduced us to Councilman Tate in season 4. "What was supposed to be a simple cameo turned into a leading character role," said Larenz Tate at the screening of episode 614. Larenz was supposed to make a cameo as a "thug" on the show. A role he's done many times before. He wanted to do more and so that cameo was tabled until a later date. Once again, the Power team (Courtney Kemp) returned to the Why Do Fools Fall in Love actor and presented him with another opportunity that he was unavailable for. They say three times is a charm and the third time was perfect. Councilman Tate came into our lives in season 4 and politically rose to the top, playing a very intense game of chess with James St. Patrick aka Ghost. Fast forward to season 6 of Power and all of the key players are basically living out their vantage point of Who Shot Ghost. To tell more of councilman Tate's story, they decided to give him a family of his own, his brother Kamaal (Lahmard), sister in law Simone and nephew Elijah Tate. The chemistry runs high as you can expect as you see Rashad (Larenz) struggle with right and wrong. His brother Kamaal (Lahmard) knowing something isn't right but doing his best to protect his younger brother. Then Ghost is shot.
So in my interview with the #TateBrothers, do we find out who shot Ghost? Unfortunately, no, as a matter of fact, they don't even know themselves. "The show filmed multiple different endings and didn't tell us which one will air February 9th, so we will be watching and learning with you all," said Larenz. As far as working together, this wasn't their first time on screen together but as Lahmard mentioned, it has been a long time coming. We want to see more from them. So what's next with the #TateBrothers well they are continuing with an audio series that they are working on together along with 3rd brother Larron Tate (Producer). As far as Power goes, here's what we do know the hashtag they are using is #PowerNeverEnds. Is this a tell-tale sign that there is a spin-off? Will we see more of the #Tate story develop, or will Curtis "50 Cent" Jackson spin-off in another way? If you are online then you saw a post with Mary J. Blige that said Power Book 2 #PowerNeverEnds. I guess we have to wait and see. Until then, let's tune in to Power this Sunday (Saturday at Midnight if you have the Starz app) to see what the future of Power is.