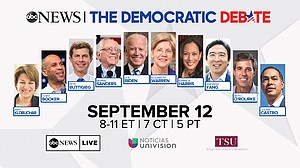 · "The Debrief," the daily news program anchored by ABC News Live Anchor and Correspondent Kimberly Brooks, will broadcast live September 12 at 11:00 a.m. ET from Houston.
· Social media newscast "On Location" will take audiences behind the scenes before the debate from Houston and will have a recap and post-debate analysis on September 13 – exclusively for Facebook Watch.
· FiveThirtyEight will have a special episode of the "FiveThirtyEight Politics" podcast, recorded from Houston, after the debate. FiveThirtyEight will also live blog the debate.
ABC News Radio will provide coverage of the Democratic Debate anchored by Correspondent Aaron Katerskyin Houston.ABC News Radio will broadcast the debate in its entirety followed by post-debate analysis. In the hour leading up to the debate, ABC News Radio will offer affiliates an exclusive one-hour program, "Preview to the Democratic Debate." It will provide four one-minute status reports each hour throughout the debate and the following morning. Host Brad Mielke will host the award-winning podcast "Start Here" from Houston on Thursday, September 12 and Friday, September 13, and a special edition of the "Powerhouse Politics" podcast, featuring Karl and ABC News Political Director Rick Klein, will tape in Houston the week of the debate.
HOW TO WATCH THE DEBATE: The ABC News Democratic Debate will air live nationally on the ABC Television Network and Univision (with a Spanish translation) and locally on KTRK-TV. ABC News will livestream the debate on ABC News Live – the network's 24/7 breaking news and live events streaming channel – on Roku, Hulu, AppleTV, Amazon Fire TV, YouTube, Apple News, Facebook, Twitter, and the ABC News, Good Morning America and FiveThirtyEight websites and mobile phone apps. Univision News will also livestream the debate on all of its digital platforms including Facebook, YouTube and Periscope.
Members of the press can submit applications for media credentials at the following website through Tuesday, September 3: https://theabcnewsdebate.com/