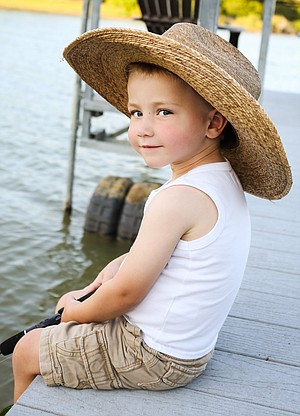 September is going to be a month of celebration and joy for COTA's Luhm Family of Little Elm, Texas. On September 26th the entire family, and lots of folks in their community, will be celebrating the two-year anniversary of Wiley receiving a life-saving kidney from his mom, Stephanie. This is a celebration that Stephanie and Wiley's dad, Mike, only dreamed about just a little over two years ago. It has been a long journey for the Luhm Family, but one that seems to now be on the right track.
In June 2014, after 10 years of marriage and after a healthy and routine pregnancy, Stephanie and Mike were ecstatic to meet their baby boy who they had already named Wiley. But once Wiley was born he was immediately rushed to the NICU due to breathing difficulties. Oxygen helped the newborn, but it was clear something was very wrong. When Wiley was two days old he was transferred to Medical City Children's Hospital in Dallas where Mike and Stephanie heard the crippling news -- their precious baby boy was in End Stage Renal Disease (ESRD). In Wiley's case, the ESRD was caused by a birth defect known as posterior urethral valve (PUV). PUV, which appears in 1 in 5,000 to 8,000 baby boys, is a condition in which an extra flap of tissue grows inside the urethra blocking the flow from the bladder, which prevents urination. Baby Wiley's inability to urinate in utero severely damaged his developing kidneys.
When Wiley was only three days old he underwent his first surgery to have a peritoneal catheter inserted. Later that day, the three-day-old baby was placed on his first round of dialysis. For the next five weeks, he endured three more surgeries and nightly dialysis. On August 1st, Baby Wiley was released to go home with Mike and Stephanie for the very first time. Throughout his first months at home, Wiley had to undergo many lab draws and be taken to numerous doctors' appointments.
The Luhms were very aware that ultimately Wiley needed a new kidney for long-term survival. While they waited for the baby to grow and gain weight, Stephanie and Mike became quite proficient at nightly dialysis, daily weigh-ins, vital checks and getting an infant to take a host of medications. This was their life throughout the fall of 2014. In January 2015, Stephanie found the name of the Children's Organ Transplant Association on another kidney mom's Facebook page and started doing online research. In early February, Stephanie called COTA to learn more and to ask many good questions about how COTA might be able to help. In late May, Stephanie and Mike returned the paperwork and officially became part of the COTA Family.
COTA uniquely understands that parents who care for a child or young adult before, during and after a life-saving transplant have enough to deal with, so COTA's model shifts the responsibility for fundraising to a community team of trained volunteers. Another plus? COTA funds are available for a lifetime of transplant-related expenses. In late July 2015, a COTA fundraising specialist trained volunteers in the Dallas and Memphis (TN) areas for the COTA campaign in honor of Wiley L and walked the volunteers through the entire COTA fundraising process.