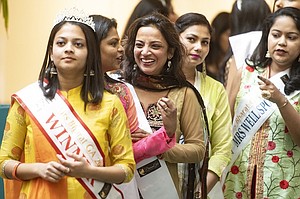 Join Macy's First Colony for a celebration of Diwali, the Festival of Light that marks the victory of light over darkness, at a special in-store event. On Saturday, October 19 at 2 p.m., Macy's First Colony will honor the beauty of the holiday and the traditions celebrated across many communities during this special time of year.
Guests will enjoy Bollywood dance performances, henna artists, a chance to win a beauty gift basket valued at $200 and the opportunity to shop from exquisite gifting stations for all Diwali shopping desires.
Additionally, attendees who spend $50 or more in the jewelry department will receive a personalized henna tattoo and a silk jewelry keepsake pouch. Plus, attendees who spend $35 or more in the cosmetic department will receive a henna decorated candle. Those interested in attending should click here for more information.
Diwali is the Festival of Lights and one of the most widely celebrated festivals of India. Diwali symbolizes the spiritual victory of light over darkness, good over evil and knowledge over ignorance.
Saturday, October 19 from 2 to 4 p.m.
Macy's First Colony
Cosmetics and Jewelry Departments on Level 1
16511 Southwest Fwy, Sugar Land, TX, 77479