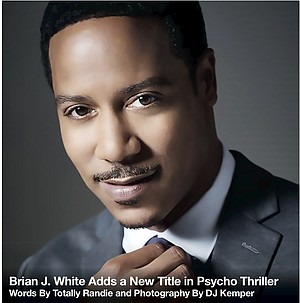 TotallyRandie: Have you always wanted to direct?
White: Directing has always been the goal. Since "Stomp the Yard," Savon White is one of the most talented studied directors that I know. So that was enlightenment for me to learn everything, study my craft. It's a marathon and not a sprint.
TotallyRandie: Did you have any input for the casting of the film?
White: Yes and no. I mean a lot of it was organic. I mean her scene is called a cameo but it's more than that. Her time on screen is well spent and it's a big deal conveying in a comedic way how to deal with grief and how to process it. So, we had a vision of what we wanted and Torrei and Lil Durk was perfect for those roles.
TotallyRandie: You and Columbus Short have great on-screen chemistry.
White: Oh yes! Columbus was my first call. It was a really great opportunity to spend time with a person I love doing something we love which is creating great art. In choosing Columbus, we get to explore a Cain and Abel type of relationship. George and Frank are a conversation piece within itself and Columbus is extremely talented and brings exactly what is needed to his character. So, I was excited to do something substantial with Columbus again.
TotallyRandie: Let's talk about Frank. What part of Frank is Brian and what challenges did this character pose to you?
White: Frank was a challenge because I am not that emotional myself. He started as this perfect person and when his world is shattered, he had to deal with what he had to become next. I totally relate to the married part. I mean I am standing here looking at my perfect life now, my daughter getting ready to go to a soccer game and I think to myself if my life would have crashed and burned like him, what would I do how would I react.
TotallyRandie: And speaking of that, do you have a work life balance? How do you balance it?
White: I always make decisions with my family. We sit down at dinner and talk about our goals and what's best for our family. Hollywood is just the job. Jobs come and go but nothing comes before family, integrity goes a long way. I always lead with values, my values, and my family values.
TotallyRandie: Let's have fun. What's your favorite food in your favorite city?
White: Pappasitos and Pappadeaux in Houston. Cause I used to live on San Felipe at the Woodway Square Apartments, and I used to go get bacon wrapped shrimp.
TotallyRandie: It's your movie, you are producing it and you can pick any person to act with you who would that be?
White: Hmmm I think it would depend on the specifics of the character I don't have one person I'd love to work with. Um, Naomi Harris, she's amazing or Michael B [Jordan] he's pretty amazing, I'd like to do a project with him. It's quite a few people that I would love to work with.