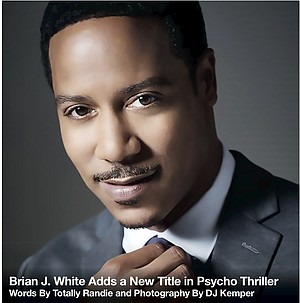 It is officially spooky season and what a better way to cap it off than with a psychological thriller, drama, comedy? Yes, the "Dear Frank" movie, a Muddy Waters Pictures & Webber Films production is shaking up Hollywood with a merge of genres that hasn't been seen. The drama centers on Brian White ("Moonlight," "Stomp the Yard") as husband, Frank, and Claudia Jordan ("Middle Men," "Love is Not Enough.") as his wife, Beth. After Beth is poisoned, Frank discovers a secret diary with a list of past lovers who now have become suspects in her murder. Written by Luis Montalvo, "Dear Frank" tells the multi-layered story of a heartbroken husband, seeking revenge and murder from his wife's secret affairs. Frank is conflicted with drama and hardship as he faces Beth's infidelity in this tense and unsettling mystery/thriller. Throw in the comedic relief from Torrei Hart and Lil Durk and you have a roller coaster ride of twist and turns that leaves you wanting more! Of course, Houston Style Magazine got a chance to speak with a legend in the making actor, Brian J. White, himself, an up and coming actress and co-star Kearia Schroeder.
Brian J. White has been in literally everything, from "Scandal," to "The Family Stone," to "Never Heard," he is becoming a legend in the making. As the son of NBA Hall of Famer, Jo Jo White, preps for Layla's (his daughter) soccer game, he talks to us about getting his feet wet with directing, joining Columbus Short on the silver screen again, Frank and more.
TotallyRandie: It's always a privilege to have one of the greats come to HSM and speak with us. So, thank you. How did you join the Dear Frank project?
Brian J. White: Claudia Jordan and I grew up together, and so we're friends. She just simply called me up and asked me how I felt about playing the husband role. I read the script and I thought wow it was great, and I had some comedic ideas, she said come down for a meeting and the rest is, as they say, is history.
TotallyRandie: And co-director? How did that come about?
White: Josh Webber and I had been familiar with each other; I didn't know he was on the film as a producer. So they asked if I could help fill in the rest of the pages and as I mentioned before I had comedic Ideas and so this is a Black comedic thriller and it's not anything like it on the market. This film is meant to entertain. There is a message, but it's meant to entertain. I am a huge fan of Jordan Peel and Woody Allen. So, it was exciting to me as a filmmaker and we just started to build from there with Josh being the lead director and myself co-directing and telling the story from behind the camera.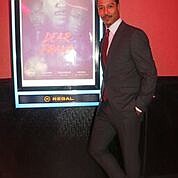 TotallyRandie: How did that change your perspective from behind the camera?
White: Vast appreciation for how many balls you are juggling. It just magnifies the idea of how an excellent film, TV episode or play is executed. So, Yes, hats off to everyone's expertise.