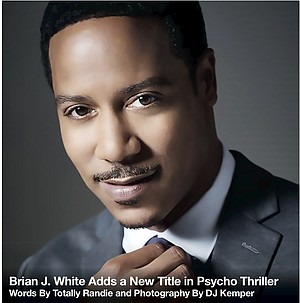 It is officially spooky season and what a better way to cap it off than with a psychological thriller, drama, comedy? Yes, the "Dear Frank" movie, a Muddy Waters Pictures & Webber Films production is shaking up Hollywood with a merge of genres that hasn't been seen. The drama centers on Brian White ("Moonlight," "Stomp the Yard") as husband, Frank, and Claudia Jordan ("Middle Men," "Love is Not Enough.") as his wife, Beth. After Beth is poisoned, Frank discovers a secret diary with a list of past lovers who now have become suspects in her murder. Written by Luis Montalvo, "Dear Frank" tells the multi-layered story of a heartbroken husband, seeking revenge and murder from his wife's secret affairs. Frank is conflicted with drama and hardship as he faces Beth's infidelity in this tense and unsettling mystery/thriller. Throw in the comedic relief from Torrei Hart and Lil Durk and you have a roller coaster ride of twist and turns that leaves you wanting more! Of course, Houston Style Magazine got a chance to speak with a legend in the making actor, Brian J. White, himself, an up and coming actress and co-star Kearia Schroeder.
Brian J. White has been in literally everything, from "Scandal," to "The Family Stone," to "Never Heard," he is becoming a legend in the making. As the son of NBA Hall of Famer, Jo Jo White, preps for Layla's (his daughter) soccer game, he talks to us about getting his feet wet with directing, joining Columbus Short on the silver screen again, Frank and more.
TotallyRandie: It's always a privilege to have one of the greats come to HSM and speak with us. So, thank you. How did you join the Dear Frank project?
Brian J. White: Claudia Jordan and I grew up together, and so we're friends. She just simply called me up and asked me how I felt about playing the husband role. I read the script and I thought wow it was great, and I had some comedic ideas, she said come down for a meeting and the rest is, as they say, is history.
TotallyRandie: And co-director? How did that come about?
White: Josh Webber and I had been familiar with each other; I didn't know he was on the film as a producer. So they asked if I could help fill in the rest of the pages and as I mentioned before I had comedic Ideas and so this is a Black comedic thriller and it's not anything like it on the market. This film is meant to entertain. There is a message, but it's meant to entertain. I am a huge fan of Jordan Peel and Woody Allen. So, it was exciting to me as a filmmaker and we just started to build from there with Josh being the lead director and myself co-directing and telling the story from behind the camera.
TotallyRandie: How did that change your perspective from behind the camera?
White: Vast appreciation for how many balls you are juggling. It just magnifies the idea of how an excellent film, TV episode or play is executed. So, Yes, hats off to everyone's expertise.
TotallyRandie: Have you always wanted to direct?
White: Directing has always been the goal. Since "Stomp the Yard," Savon White is one of the most talented studied directors that I know. So that was enlightenment for me to learn everything, study my craft. It's a marathon and not a sprint.
TotallyRandie: Did you have any input for the casting of the film?
White: Yes and no. I mean a lot of it was organic. I mean her scene is called a cameo but it's more than that. Her time on screen is well spent and it's a big deal conveying in a comedic way how to deal with grief and how to process it. So, we had a vision of what we wanted and Torrei and Lil Durk was perfect for those roles.
TotallyRandie: You and Columbus Short have great on-screen chemistry.
White: Oh yes! Columbus was my first call. It was a really great opportunity to spend time with a person I love doing something we love which is creating great art. In choosing Columbus, we get to explore a Cain and Abel type of relationship. George and Frank are a conversation piece within itself and Columbus is extremely talented and brings exactly what is needed to his character. So, I was excited to do something substantial with Columbus again.
TotallyRandie: Let's talk about Frank. What part of Frank is Brian and what challenges did this character pose to you?
White: Frank was a challenge because I am not that emotional myself. He started as this perfect person and when his world is shattered, he had to deal with what he had to become next. I totally relate to the married part. I mean I am standing here looking at my perfect life now, my daughter getting ready to go to a soccer game and I think to myself if my life would have crashed and burned like him, what would I do how would I react.
TotallyRandie: And speaking of that, do you have a work life balance? How do you balance it?
White: I always make decisions with my family. We sit down at dinner and talk about our goals and what's best for our family. Hollywood is just the job. Jobs come and go but nothing comes before family, integrity goes a long way. I always lead with values, my values, and my family values.
TotallyRandie: Let's have fun. What's your favorite food in your favorite city?
White: Pappasitos and Pappadeaux in Houston. Cause I used to live on San Felipe at the Woodway Square Apartments, and I used to go get bacon wrapped shrimp.
TotallyRandie: It's your movie, you are producing it and you can pick any person to act with you who would that be?
White: Hmmm I think it would depend on the specifics of the character I don't have one person I'd love to work with. Um, Naomi Harris, she's amazing or Michael B [Jordan] he's pretty amazing, I'd like to do a project with him. It's quite a few people that I would love to work with.
As we wrapped up the interview, it was refreshing to hear him breaking the interview to answer questions from his daughter, it showed that he makes her a priority. White is currently working on a bunch of projects: "Sky's the Limit" with BET, "Monogamy" for Amazon with Vanessa Simmons and a host of other great cameos, "Ambitions" on OWN (a series with Will Packer) and more.
Kearia Schroeder is a passionate actress with a knack for stealing the show. Although she is new to Hollywood, her vast experience as an accomplished dancer makes her no stranger to the entertainment industry. Born to a military family, Schroeder's early life was characterized by exotic travels. It wasn't until she moved to Atlanta that she polished her dancing and acting skills. She plays Carrie, the wife of George [Columbus Short] and sister-in-law to Frank.
TotallyRandie: How did this role align with your purpose and trajectory as an actress?
Kearia Schroeder: When I read the script, I thought this is so different for me. I am so used to playing the pretty girl, I mean I'm still playing the pretty girl in this role, however, this was a challenge because of the twist and turns that obviously I can't tell because you have to go and see it. But it was exciting to take on such a challenge that wasn't like anything I've ever done. This role was juicy and fun and not the norm for me.
TotallyRandie: Now coming from such a strong dancer background, did you use that training to assist you in the role that you are playing for "Dear Frank"?
Schroeder: Well, as a dancer we learn to channel our emotions and things of that nature within our body movements. So, I would have to say yes, anytime I'm acting, it's still the dancer in me because movement adds that extra layer to your audience. Especially, this role because of the energies' change, I go from very sweet to very hard. It's amazing to see your body transform to enlighten that character.
TotallyRandie: How was performing with a seasoned actor like Brian J. White as a co-star and co-director?
Schroeder: Well, this is my second time project with Brian, and of course, it was nothing short of amazing because working with a vet, always sharpens your skills. You want to work with the vets, so this experience was amazing. Brian gives you really good notes and steers you in the right direction to enhance your character even more.
TotallyRandie: So, let's talk about your character Carrie. Is there any part of her that Kearia relates to?
Schroeder: Ummm it's kind of hard to answer that question because I don't want to give anything away. I don't want to give her away because she is someone to watch. Part of the greatness of the character is her mystery.
TotallyRandie: Well, will we hate or love her?
Schroeder: [Laughs] How could you not love Carrie! You're going to love her because I'm playing her. No, seriously it depends on what side of the coin you are on but no she's quite different. I'm not trying to give it away but yes lol.
TotallyRandie: How is this film different from anything else you've seen in Hollywood?
Schroeder: Um I mean I've always been a huge fan of twists and turns in movies. This film has you guessing from beginning to end. It has you really on your toes and has you just trying to figure it out.
"Dear Frank" the movie is set to come out on November 10th, 2019.