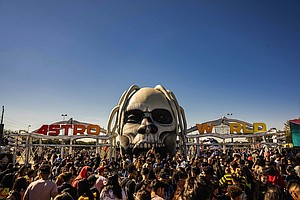 By Bradford Howard, Special to Style
Who knew that a little boy from Fort Bend ISD would grow up to be a conductor of chaos?
And yet, that's exactly what Travis Scott has become.
Over the course of multiple mixtapes, projects, and three studio albums, the Houston artist has curated a following all on his own. When his ASTROWORLD album released last year and quickly reached #1 on the Billboard 100, it wasn't Travis's "I've arrived" moment - it was him saying, "I can't be stopped now."
Tapping into Texas culture and Houstonians' known longing for an in-city amusement park, Scott launched the inaugural ASTROWORLD Fest last fall, taking over NRG Park with inflatable heads, carnival rides, state fair-caliber food, and live music acts. Last Saturday, ASTROWORLD Fest returned to NRG Park for a second consecutive year. Those who hadn't prepared last year were very ready in 2019.
Before NRG Park even opened, festival attendees were lined up outside of the gates - ironically not unlike how visitors would anxiously wait in lines at the early part of the morning for Six Flags AstroWorld to open up once upon a time. But where the inaugural festival aimed to bring back the nostalgia of Six Flags, this year's ASTROWORLD Fest seemed more like Travis Scott creating an "AstroWorld" of his own.
The music stages were branded "Thrills" and "Chills," respectively. Booths for carnival games bore the names of Travis's memorable lyrics and song titles. A post-apocalyptic theme was all over the place, fire booming into the air on either side of a large inflated skull at the park entrance and golden skeletons at rest atop stacked shipping containers. Inspired by Scott's "Cactus Jack" persona and their Cactus Jack shoe collaborations with Travis, Nike had ranch-style setup complete with a barn and bales of hay. And fans waited in lines for hours for merchandise, whether it was at the two-sided tent for official ASTROWORLD Fest gear or at the Screwed Up Records & Tapes replica booth, which featured archived mixtapes and exclusive shirts and hats.
Standard carnival fare like a ferris wheel and fun house (as well as a ride that would've given Six Flags old-heads serious "Dungeon Drop" vibes) were present, but there were ASTROWORLD Fest-themed attractions, as well. Participants could navigate total darkness in the "Black Out Maze," for example; or join in the "AstroDome," a sort of incubator for an enclosed rave that employed a countdown and flashing lights, and played snippets of previously unreleased Travis Scott songs.
The main attraction, of course, was the music acts, a lineup that Scott handpicked himself. Travis Scott's fanbase isn't just the hip-hop fans that came along with Birds in the Trap Sing McKnight and ASTROWORLD, however - it's the fans that rocked with Owl Pharaoh. The fans familiar with Travis's chaotic energy in live performances - the fans that fed off the rock-music undercurrent on Rodeo and its mixtape predecessor Days Before Rodeo.
Travis Scott understands his audience isn't a monolith. That's why the Houston All-Stars - which included Paul Wall, Bun B, and Lil' Keke, to name a few - performed. That's why Da Baby brought out backup dancers in blow-up baby costumes and crowd surfed. Why Sheck Wes encouraged a mosh pit during his set. That's why, despite a postponed set, Megan Thee Stallion was able to bring aspiring "hotties" onstage for a twerk contest while she strutted back and forth in a leopard print outfit and a long ponytail to rival Rapunzel's. Why Pharrell had the crowd moving to songs he'd produced, contributed to, or made over the last two decades. And that's why the twilight acts were rock legend Marilyn Manson and Latin singer on the rise Rosalia before Travis took the main stage. There was, quite literally, someone for everyone.
The man of the hour made the most of his moments, too. Comedian Dave Chappelle formally introduced Travis. He brought out his mentor Kanye West as a surprise special guest. But he started out his set on a crane - because being up in the air high above the crowd was the only proper way to perform his single "Highest in The Room" - and his stage transformed into different palettes of color behind him, his "ASTROWORLD" logo projected in ice blue during one song and the lettering covered in flames during the next song. When the night ended with fireworks ascending into the sky and the artist being lauded with thunderous applause and cheers, it signaled something bigger than Scott himself.
With three albums and now two festivals (and counting) under his belt, you can't call Travis Scott just a rapper anymore. He's a rockstar now, and ASTROWORLD Fest is becoming his annual personal playground.