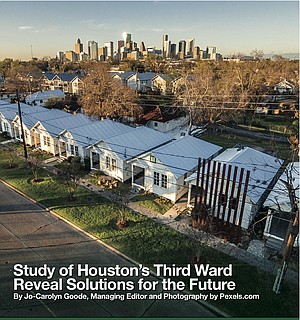 African Americans face many disparities as an ethnic group. As it relates to health, African Americans are at an above average risk than any other racial group to be diagnosed with Diabetes, kidney disease, asthma, sarcoidosis, stroke, high blood pressure, and cancer. Census results indicate that African Americans are the second highest racial group behind Hispanics living with below average income. With a low income means that families don't have access to better housing and other neighborhood amenities like grocery stores for good nutrition, schools for excellent education, and hospital for good healthcare. A report from Rice University's Baker Institute for Public Policy highlights many of these disparities while showing the concern of African Americans dealing with these life circumstances in Houston's Third Ward.
The report was done in hopes that those with the means would invest in the area to give residents greater access to healthcare facilities, transportation vessels, schools, hospitals, etc. for a better quality of life. Quianta Moore, a fellow in child health policy at the Baker Institute; Assata Richards, director of the Sankofa Research Institute; and Chris Kulesza, a research analyst in the Baker Institute's Child Health Policy Program all co-authored the report entitled "Third Ward Comprehensive Needs Assessment Data Report." The data was collected in three phases between April 2017 and August 2018 in the area bounded by State Highway 288/U.S. Highway 59 to the west, Interstate 45 to the north, Cullen Street to the east and Blodgett Street to the south. Resident researchers, all of whom had completed the National Institutes of Health training on human subject research before collecting data, assisted the project team. The dataset includes responses from 1,616 heads of households, representing a 49% response rate.
In conducting their research, the authors found topping the list of the community concerns centered on housing, specifically the rising cost of rent and other living expenses as a result of new construction in the area. "This is not to say, however, that residents were opposed to all new development in the neighborhood," the authors wrote. "We found that they would like to see new services, stores and businesses come into the Third Ward, including hospitals, childcare facilities, restaurants and movie theaters."
Results also showed that residents had a strong sense of pride in their community. Just as strong as the pride in their neighborhood was the pride in their culture. "Residents in this neighborhood had a strong sense of community," the authors wrote. "Most of those surveyed had lived in the Third Ward for more than 15 years and had little desire to move." That sense was generationally rooted from when the ward system was first developed.
Houston's Third Ward is inside the loop between Downtown Houston and the Texas Medical Center. Also known as "The Tre," Third Ward is the heart of the Black community in Houston. Originally Whites and African Americans occupied the area but after World War II around 1945 it became predominately African American when White residents began to move further out to the suburbs. At this time was when the neighborhood took an economic shift of poverty as Blacks from Louisiana, East Texas and other southern states started to migrate to the area. Due to a lack of skills held by the people, many didn't have much money flowing into the homes.