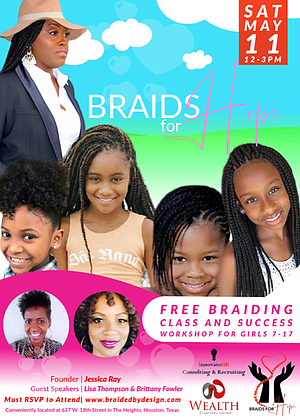 Houston Girls ages 7-17 can get a head start on launching their own business this Saturday, May 11th thanks to US Army Reserve Veteran and Braids for Hope Founder Jessica Ray.
Ray, a Houston Army veteran and DOD Contractor turned entrepreneur, is hosting a Free Braiding Class and Success Workshop for girls ages 7-17, at her Braided by Design Hair Studio (637 W. 18th Street, Houston, Texas) from 12pm-3pm on Saturday, May 11.
The workshop will help girls and young ladies build for their futures and explore career paths by teaching them hair braiding techniques and how to turn braiding into a business, along with financial responsibility, entrepreneurial strategies, and business poise and confidence.
The Braiding Class and Success Workshop is free and there are still spots available. Girls interested in attending must RSVP before Saturday at noon, at https://www.braidedbydesign.com.
The workshop is presented by Jessica Ray's new Braids for Hope Foundation; a non-profit designed to empower girls with a skill set they can do with their hands and provide them with the financial and educational tools that will afford them the opportunity to earn money and have a place in the world of business ownership.