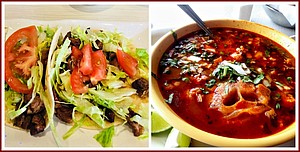 What a relief it was to find out that another eating establishment which featured tacos, nachos, soups, and tortas has opened its doors less than a mile from where I shop, work, and live. Since July of 2018, Brenda's Taqueria opened a location at 12550 Southwest Freeway in Stafford, Texas. In fact, this is the fourth location in the Greater Houston Area.
My co-workers and I rushed to our first taste of Brenda's food by ordering a medley of tacos, breakfast and the traditional. For breakfast, we had our choices of eggs and chorizo (Mexican pork sausage), eggs with ham, bacon, and/or potatoes. Each taco was hot off the grill and we had our choice of a corn or flour tortilla. Each order came with red salsa (red tomatoes) or the salsa verde (green salsa, made from tomatillos).
Our savory selection featured: chicken, stewed or fajita, beef fajita or ground, Baracoa (beef cheeks), lengua (beef tongue) and Chicharrón (fried pork belly). My favorite of the group was the Baracoa, which came with cilantro and onions on a corn tortilla. The meat was savory, tender, and very filling.
Others favored the beef fajita and chorizo with egg, which was proven by our frequent visits after the initial opening of this location.
Additionally, the location is right off the Southwest Freeway and Kirkwood, it was previously the home of the 59 Diner, so this spot is very spacious, has plenty of parking and no matter where you park, it's not a far walk from the front door.

The restaurant is very clean, the staff is super friendly, and the service is fast. Moreover, another good thing about the Stafford location is the very visible police presence. So, if you decide to get up in the middle of the night to visit this establishment, you will likely see a few police cars parked in the lot.
For those who love soup, Brenda's offers some of the traditional Mexican soups, such as Caldo de Res, (beef soup) Pollo, (chicken), Tortilla, and Pescado (fish) among a few more. For example, on the weekends they serve Menudo (beef tripe) and Pozole (hominy and pork).
If you're feeling a little blue or had a few too many cocktails, I highly recommend the Menudo.
It is seasoned well, it's spicy, but not too much heat, and for me, it just settles well in my stomach.
Thanks for reading, and check out Brenda's full menu at www.brendastaqueria.com.