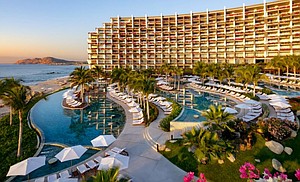 No need to choose between a memorable land or a sea experience. With Grand Velas Los Cabos' new luxury Surf & Turf experience guests will fly by helicopter for an exclusive desert electric bike ride on day one and a yacht cruise with a chance to get up close and personal with marine life on day two. And then there's a culinary adventure with each day trip.
First, guests can be flown from the resort via helicopter to the middle of the desert, where they'll enjoy a private lunch. The five-course wood fire-prepared meal will include fresh Kampachi tiradito, Negra Modelo-steamed black mussels from Ensenada, dried chili-marinated grilled octopus, San Carlos charcoal grilled snook fish skewers, and blue agave crème brulee. After they've indulged, guests will ride a razor electric bike through the desert to San Carlos Canyon before returning to the hotel.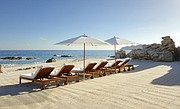 Another day, guests will embark on a helicopter again—but this time, they'll go to La Paz, where they'll board the Velas' 55-foot Azimut Yacht. On board, guests will be treated to regionally-inspired cocktails, such as a Tamarind Mezcalita or Basil Sotolita, as well as wine and cheese from the Valle de Guadalupe, homemade bread and marmalade, and cold cuts—all while cruising the azure waters of the Pacific Ocean. After lunch, guests will disembark at Espiritu Santo island—as well as La Lobera beach and Candelero Bay—where they'll swim with sea lions and spot dolphins, turtles, and even whales in the ocean. (For a romantic ocean adventure, couples can set sail on a sunset cruise, with all the aforementioned still included.)
Excursions can be purchased as a package or separately, allowing guests to truly tailor their experience to their interests. The combined experience costs $35,000 for two people. For just the desert or sea experience, the cost is $12,000 and $23,000 respectively. Rates include luxury suite accommodations, gourmet meals, premium branded beverages, 24-hour in-suite service, nightly entertainment, taxes, gratuity, and more. For reservations or additional information, please call 1-888-407-4869 or visit https://loscabos.grandvelas.com/.