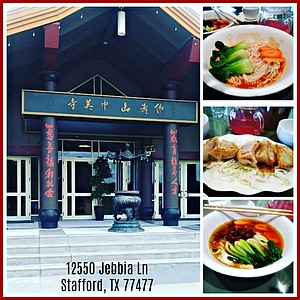 Since 2001, The Chung Mei Buddhist Temple has sat quietly on a little road off West Airport in Stafford, Texas. According to their website, they are a part of The Fo Guang Shan Buddhist Society and their purpose is to "promote Buddhism through cultural exchange and to serve the community of greater Houston."
Nestled inside of the Temple is The Water Drop Tea House, which is a vegetarian restaurant serving a selection of Asian style soups, appetizers, and teas. "The origin of the name is based on the generous mindset of the founder Venerable Master Hsing Yun, who vows to repay a drop of water's worth of kindness with a gushing spring; only a grateful life can become a rich life." The cafe is open Tuesday through Sunday from 11:00 a.m. until 3:30 p.m.
The restaurant is operated by volunteers from the temple and has a warm peaceful atmosphere that is an excellent spot for eating light and relaxing the mind and body. The grounds of the temple are immaculately kept and can be partially viewed while sitting in the Tea House.
This was our first visit and since we both love noodles we decided on the Thai Style Hot & Sour Noodles and Sauteed Grounded Bean Curd Noodle Soup. We elected to share some potstickers, which are the pan-fried vegetarian dumplings. For our tea selection, we decided on the lavender hot tea.
The dumplings came out first, and they were seared perfectly, slightly crispy and filled with a medley of vegetables that were seasoned beautifully. It wasn't that we had low expectations, however, the flavors were bursting thru these small bites of food that had a plethora of well-balanced seasonings. The dumplings were garnished with raw cabbage and a soy-based sauce for dipping.
The soups made their entrance shortly after the appetizers and they were colorful bowls of noodles, bean curd, bok choy, and sliced carrots. The broth on the Thai Hot and Sour soup was a slightly tart blend of Thai peppers, vinegar, and salt. My guest had the bean curd soup which had a lighter broth and contained grounded bean curd with bok choy and carrot slices.
We enjoyed our dishes while sipping the lavender tea which was aromatic, slightly sweetened and had a hint of lemon flavor. The service was great, we had attentive volunteers who constantly smiled as they waited on us. Go see for yourself, plan your visit by going to http://www.houstonbuddhism.org/tea-house/ look over the menu and take a friend.