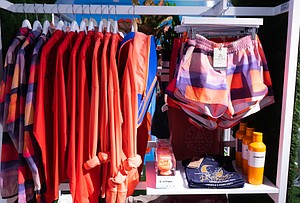 STORY at Macy's, the always changing "store to explore" within 36 Macy's locations nationwide, including Macy's Houston Galleria and Macy's Memorial City in Houston, unveils its second experiential concept: Outdoor STORY. A collaboration with DICK'S Sporting Goods and Miracle-Gro®, this adventure filled story opens today and runs until September, offering Macy's customers an outdoor-inspired playground that places an editorial focus on entertaining, bringing the outside indoors, as well as recreational activities. STORY at Macy's explores the theme through a mix of curated merchandise from more than 70 brands, dynamic store design, and community-focused event programming which range from indoor gardening workshops to outdoor activities such as kayaking on the Hudson River.
To bring some outdoor experts to the table, STORY at Macy's teamed up with DICK'S and Miracle-Gro. What better way to bring the outdoors to life than through inspired, exclusive merchandise that calls you to get outside and then to bring the splendor of nature to your indoor spaces through a range of plants, indoor gardens and curated products.
Outdoor STORY marks a set of firsts for Macy's, as the national department store partners with the nation's largest sporting goods retailer, DICK'S, and the category leader in gardening, Miracle-Gro to bring the theme to life. "When Rachel Shechtman founder of STORY came to me with the concept I paused, because I wouldn't have thought about partnering with another retailer to sell outdoor products at Macy's. However, as she presented her ideas and the merchandise her team was envisioning it made a lot of sense. I reached out to Ed Stack, chairman & CEO of DICK'S, knowing that this would be a first for them as well to share their exclusive private brand assortment in another major retailer but he also saw the creative vision and we had the deal done and partnership launched in less than two months," shared Jeff Gennette, chairman and CEO of Macy's, Inc.
Outdoor STORY will further support the Macy's brand experience team's 'test and learn' approach via a variety of cross-merchandising strategies and event programming that showcases the community of each brand. "I think people may be surprised and intrigued by our partnerships, and that is exactly what we wanted. We want to show both consumers, as well as businesses, that collaboration is the new competition; bringing together brands as storytellers to add authority and authenticity to a subject matter, like we are doing with DICK'S and Miracle-Gro, benefits both the customer and the business," commented Rachel Shechtman, Macy's brand experience officer and founder of STORY. As the retail industry continues to evolve, Shechtman noted that, "The timing felt right to lean on each brand's respective strengths to empower new modes of collaboration and learning."
DICK'S Sporting Goods
STORY at Macy's signature, collaborative DNA is further expressed through the first-of-its-kind partnership for Macy's and DICK'S. The sporting goods retailer will come to life inside STORY through a highly curated mix of apparel and hard goods from DICK'S own private brands, Alpine Design and Field & Stream, making this their first debut at another major retailer. "We see this retail collaboration between Macy's, Miracle-Gro and DICK'S as a way to showcase how three very different American-made companies can come together to create a unique shopping experience for all customers. We wish to thank the entire STORY team for thinking of DICK'S first when seeking an outdoor partner for this summer outdoor collaboration," said Stack.