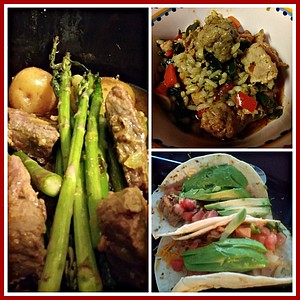 Its' been about two years since I received an email invitation to try a home meal service that offered me $30 off my first meal and an additional discount for each referral I sent their way. My co-workers and I studied the website intensely at the menu offerings for the weeks that we would receive our orders.
Not only did Home Chef pre-package a week's worth of food, but they also separated and labeled every ingredient that was listed on the recipe card. Additionally, we were able to view in advance all of the dishes that were available for an entire month. Also, we had the choice to swap out a meal that we didn't for another meal choice that was available for that particular week. Moreover, the company allows the consumer to skip any weeks that they decide not to receive a delivery. The consumer also has a choice between dinner for two or four.
Since we are single we chose the dinner for two, which we were provided with enough food for two meals. Most of the time, we found that we had enough food for three meals, depending on the dish.
One of my favorite dishes that I have received so far was the Hawaiian Chicken Thigh Tacos. A hard copy of the online recipe card was also included in each box with the ingredients listed on the front.

This meal included: six small flour tortillas, crispy jalapenos, grape tomatoes, pineapple chunks, one lime, one red onion, seasoning, and the diced chicken thighs.
The recipes are well-written and detailed, but I usually just glance at their words then, just go for it. In the photo collage included with this article is a snapshot of the chicken tacos. I added avocado pico de gallo to my plated dish. At most, that particular meal took me about 30 minutes to cook and plate.
The food is delivered insulated and cooled with plenty of dry ice, and I have never received any food that was spoiled or not the correct temperature. This company distributes high-quality food and customer service. Check them out at www.homechef.com, and let us know what you think.

Thanks for reading, and please continue to follow us on Facebook, Instagram, and Twitter.