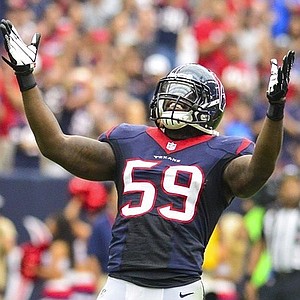 The WithMerci Foundation supports child advocacy programs servicing the special needs population and this holiday season they will continue to spread the Christmas joy to their 2019 partner; Easter Seals of Greater Houston.
Houston Texans' Whitney Mercilus, will host 25 kids and their parents today, Tuesday, December 17, 2019 from 5:00 p.m. to 6:30 p.m at Whataburger | 1110 Silber to food, games and music. Additionally, Mercilus and the WithMerci Foundation will bring toys to the children from their annual holiday toy drive. This year Mercilus and the foundation partnered with The Empire Barber Studio, Gorilla Meat Tailgaters, Antone's and 8th Wonder Distillery, to collect new, unwrapped toys.
Whataburger is a WithMerci Foundation and Whitney Mercilus proud sponsor. They are closing their doors for this special time to provide food and entertainment for the kids and their families.
"It is always a blessing to be a blessing and during the holiday season it is even more evident. You never know how a single act of kindness can impact the outcome of someone's day or even their lives. Working with children with disabilities is something near and dear to my heart, so any chance I get to make a difference in their lives individually or through the works of my foundation, I embrace every moment", said Mercilus.
Mercilus launched the WithMerci Foundation in 2016 and has raised just over $500,000 to assist children with disabilities. Each year the foundation focuses on a new disability. This year the focus was Down-Syndrome and the foundation was able to donate $75,000 to the cause.

For more information about The WithMerci Foundation, please visit www.withmerci.org. You can connect with the foundation on Instagram, Facebook and Twitter @withmerci.
WithMerci Foundation Vision - Start WithMerci by believing in and advocating for children around the world with disabilities and special needs. Live WithMerci through services and support that ensure children with disabilities feel included through all aspects of life. Work WithMerci through special sporting events and by providing education to individuals. Give WithMerci through financial support.
WithMerci Foundation Mission - To provide advocate services and support to families of children with disabilities and special needs.