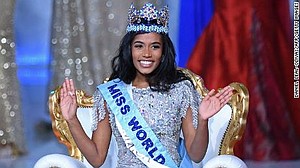 Pulling the naps out of our hair with a comb that is blazing at 149 degrees Fahrenheit. Starving ourselves, going under the knife, duck taping our body parts just to minimize the size of our breasts, butt, and hips so we could be looked at as the perfect sized woman as defined by America culture. Looking in the mirror trying to find the beauty in the face staring back when we have been brainwashed to think that beauty is everything but what we see reflected in the mirror. This is just some of what little Black girls go through growing up that results in low self-confidence and a lack of self-love.
This year the narrative is changing for today's little Black girls. Curves are appealing. Kinky hair is a symbol of strength and pride. Skin with melanin is admired. With this changing definition of beauty, more and more Black girls are learning to fall in love with their mirror image. They are embracing everything that God made them to be. And this love is spreading to more than just the African American race but all races of women who are learning to love every part of themselves.
Why this shift? It may have something to do with Zozibini Tunzi, Cheslie Kryst, Kaliegh Garris, and Nia Franklin. Don't know these names. Well, maybe you have heard of their titles – Miss Universe, Miss USA, Miss Teen USA, and Miss America. For the first time in history, women of color hold all four national titles at the same time. Thereby defining that Black is indeed beautiful.
90 to 20 to 10 to 5 to 3 to 1
The newest member of this elite club, South Africa's Zozibini Tunzi, captivated the world's attention this past Sunday in Atlanta, GA on stage at Tyler Perry Studios. With her natural roots of 4C hair, chiseled yet smooth features, well-versed words, glowing confidence, poise & grace, and Black Girl pride, Tunzi made every Black girl stand two feet taller with each phase of the competition.
"I grew up in a world where a woman who looks like me, with my kind of skin and my kind of hair was never considered to be beautiful, and I think it is time that that stops, today," Tunzi said. "I want children to look at me and see my face, and I want them to see their faces reflected in mine."
Today, Black girls see their faces reflected in your face Zozibini. They know, without a shadow of a doubt, that they are beautiful, intelligent, capable, resourceful, talented, unstoppable queens ready to conquer anything at any place at any time.
Thank you Zozibini, Cheslie, Kaliegh, and Nia for being the trailblazers of beauty and being the examples that the world needed to see.

Update
Another Melanin Queen
Another Black beauty has been added to this group. Jamaica's Toni-Ann Singh was crowned Miss World 2019.
Singh is a 23-year-old psychology and women studies graduate of Florida State University. She plans to continue her education after her reign by going to medical school.
After her big win, Singh said, "To that little girl in St. Thomas, Jamaica and all the girls around the world - please believe in yourself. Please know that you are worthy and capable of achieving your dreams. This crown is not mine but yours. You have a purpose.
Now all five of the world's top beauty pageant titleholders -- Miss USA, Miss Teen USA, Miss America, Miss Universe, and Miss World -- are held by Black women at the same time for the first time in history.